How much do you love Your CAR

India
August 10, 2010 9:55pm CST
I love my car a lot and I love to drive it, i treat it just like it is my new Girlfriend....What about You Guys.....
4 responses

• China
12 Aug 10
I'm always dreaming a car of my own!In my country,it's so hard for us to buy a car!We need to buy a house firstly and that will cost more than a half of our whole life savings!So,it will be unrealistic for us to talk about car!The house sellers have made great money.And buying a car for them is just a piece of cake,even buying a Ferrari!There is a veryyyy huge gap between people's income in my country!For common people,even you send a car to him,he may not receive for he can't raise it!Common people have to pay house mortgage,child's tuition,pensions,health care.So i'm dreaming a car,but firstly now, i have to work veryy hard to buy a house and then again work very hard to pay the mortgage!Life is so realistic in my country!What a pitty!

• Hartford, Connecticut
11 Aug 10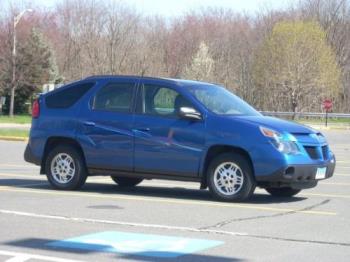 I really love my car.. And I've had her for 4 years -almost.. Her Name is Crikey. She's a beautiful Blue Pontiac Aztek. I had dreams about her before I even got her. I knew what she would look like.. So I went on a search for her.. And I found her on eBay. With a little help from some people at AAA I got approved for a loan and I went to eBay and bid on her. I WON! I got her for $9,500.00 Which was a great bargain. As car's her age with her limited mileage were selling for about 17 to 18,000.00. I had to spend $500 to ship her to me from halfway across the country. But when she arrived I was so HAPPY! I won her 10 days before Christmas and she came home just after the New Year. It made it a great holiday. Crikey helps me out a lot because she is big enough to fit all four or even five(when I had five) of my dogs in her for their trip to the Vet. I like to take pictures of Crikey.. she poses for me a lot.. Here's one I took of her on a bright sunny day. I think this is her best side. :-)

• India
11 Aug 10
Hai mylotter, wow do you consider your car as your girlfriend, well. Yes i too love my car but i do not consider it as my wife or girl friend. Because each has its special value. Currently i have no car but i have bike i clean my bike daily and care it properly. i consider it a member of my family.

• United States
11 Aug 10
whooo, my truck is my best friend, I take such good care of it, not to mention I am making payments on it, and this is the first time I ever had to do this. So my truck is so " my baby".