You never really lose an old friend.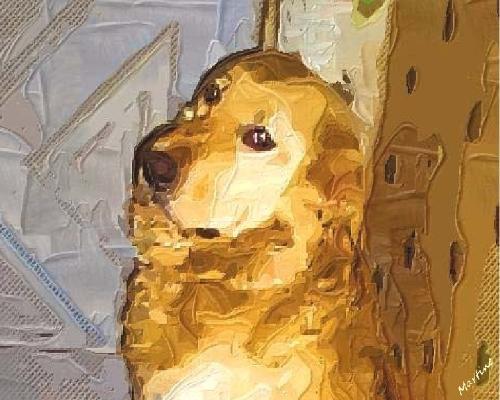 Canada
August 22, 2010 8:12pm CST
Maxxx is my golden retriever mix. He's about seven years old. Because I am not really in very good physical shape, due to arthrosis and a few other ailments, I find it hard to care for him at times. He's very enthusiastic and not exactly gentle sometimes. There came a time last winter when I was really overwhelmed by the amount of energy it took to care for him, and so I gave him to my son to take to his place, where he received lots of loving attention and more exercise. Recently, due to circumstances, Maxxx has come back to live at my place. Since the weather is nice, he's not so difficult and my son does come over and help with some of the care I can't do, like bathing the dog and the times when I am not able to walk him. (Some days are easier than others for me.) I missed Maxxx so much when he was gone, and I am very glad he is home. He was tentative for a while and not sure about being back with me, but he has settled in nicely now. You never really lose your most faithful friends. They always love and remember you.
8 responses

• Hartford, Connecticut
23 Aug 10
He's cute and I love the way you spell his name. I used to have problems when my asthma was really bad.. and It was just me the dogs and the cats. Thank God my dogs were the best in the whole wide world. I lived on the 4th floor and let me tell you when you can't breathe walking down and then up 4 flights of stairs outside in the winter was not even a task you could imagine pulling off. My 2 dogs at the time Ka'vik and T.K. were awesome, they would go downstairs by themselves to the little postage stamp of a lawn surrounded by parking lot. They would do their business and then I called them to come up and UP they came. I can't tell you how awesome it was to have 2 dogs that you could trust and who trusted you so completely that you never had to worry about them leaving your side. If I could go back in time. IT would be back to when I had the 2 best friends in the world. I have 4 of them now.. but they just aren't the same. But I won't go tradign them in anytime soon either. :-)

• Canada
22 Sep 10
If you like my spelling, you will be pleased that we also have a kat named skoootr. I am good speller, but I like to think about how animals would spell if they could. It's sort of like my real life experience of www.icanhazcheezburger.com This is one of my favorite fun sites on the net.

• Nigeria
23 Aug 10
I am really crazy about dogs and your maxx is so beautiful.....very very beautiful and cute!!!!....guess we share the same thought...no faithful friend like a dog...but i loosed mine...i really cried!

• Canada
23 Aug 10
I once had an Australian Sheep dog to whom I was very attached. When I went out each morning I'd say "Good Morning how are you today?" Omaf (his name) would stretch and yawn, and tell me that he was just fine, but hungry. (as usual)Then we would talk some more, generally about the day and all the things that needed to be done. When Omaf was 15, life became more than he could bare, what with his arthritic joints, and complete loss of hearing in both ears. One day I couldn't take it any more, so we went hunting. I came back, and Omaf didn't. I still say "Good Morning," when I go out each day, and Omaf stretches and yawns, and answers back just the same as ever!

• United States
23 Aug 10
Dogs that have been treated well, and like a loving member of the family, can be the best friend a person will ever have that will love them unconditionally. They also say dogs have a fairly long memory and that they won't usually forget us, at least not after only a few months. I'm happy for you that you got your friend back. :)

• Romania
23 Aug 10
You're so right, kbkbooks! Once a dog gets to love you, he will love you for ever. I keep wondering how my friend's dog Yoko loves me, even if I don't see her too often. I think I have met her 7 or 8 times in her life (she's only 8 months old) but my friend says that Yoko loves me more than she loves her master.

Dogs attach themselves to people and they does everything to be around the people they love. Now that your Maxxx is in his old years, maybe he will be more calm and gentle. It's great you have him around you, sometimes the presence of a dog can help you forget the suffering.

• Canada
22 Sep 10
Our friends have three dogs. Two are chihuahuas and one is a boxer. My husband is definitely not a dog person. He adores cats. But every time we go over to this friend's house, their boxer goes bonkers!! She just ADORES my husband and you can tell my husband actually loves her too, although he claims otherwise. He always comes home with cute things to say about her and how their visit went.

• United States
24 Aug 10
Dogs in a stable enviroment and giving lots of attention cling to people they love a lot. I bet it was hard not having him around for a while. I have a black lab and exercise her a lot. I would miss her so much if I was to spend time away. They always know who treated them good and love you for that.


• United States
23 Aug 10
pets are amazing. Our dog Gracie was the best dog that my husband or I had ever owned in our lives. She was gentle, but had a good bark to scare away unwanted people as a dog should. She would never harm children and we always felt safe with her around our kids even when they we very young. She had a stroke a couple of years ago and it was in the winter. It was very difficult to take care of her after the stroke but we did it for 4 months. She was only 9 years old but still had puppy features (floppy ears & big brown eyes) so we never thought of her as old. Her vet told us she was not improving and after much thought we had her put to sleep. He quality of life was no longer good and we could not stand to see her suffer. We miss her daily and often think of her. It is unbelievable what a dog can bring to your life, and how much you can miss them when they are gone. Thank you for telling us about your friend Maxxx and reminding me again of my Gracie. Maybe someday we will have a dog again.