Hell's Kitchen Us Winner Cheated in Prize by Gordon Ramsay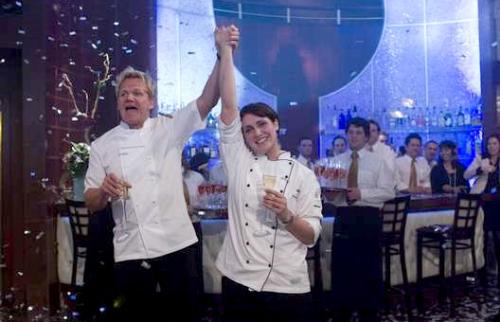 Philippines
November 28, 2010 8:13pm CST
The winner of the top Savoy Grill job of his Hell's Kitchen US – Holli Ugalde – is claiming that she is duped. As if things aren't bad enough for Chef Gordon Ramsay: a Scottish television personality and restaurateur who is one of the 81 Three Michelin Star holders in the world; the winner of the top Savoy Grill job of his Hell's Kitchen US – Holli Ugalde – is claiming that she is duped. Gordon's company lost £4 million last year and his recent falling out with his father-in-law who is involved in Gordon Ramsay Holdings is proving that his life is the one in hell right now. Why do you think things are going wrong with Chef Ramsay's life? Do you believe it is his personality that he is showing in TV that carries over to his personal life? http://telewatcher.com/reality/hells-kitchen-us-winner-cheated-in-prize-by-gordon-ramsay/
2 responses

• United States
1 Dec 10
I think many people are tired of listening to him yell and be a bully on television. Clearly, ratings have dropped, so many are changing the channel. I'm tired of hearing him yell at people when they make little mistakes, so I haven't been watching now.

• Philippines
2 Dec 10
yes, it's quite irritating already. if it is an edge over other cooking shows that makes chef gordon ramsay carry on like this his show should try to explore other "edges" it can. currently their edge over other cooking shows is the edge of driving viewers away.

• Puerto Rico
29 Nov 10
It could be the reason because he is so hard and foul while on TV. His language alone is hard to listen to every week. I think he needs to start being a nicer guy instead of being the mean and nasty chef. Being mean like that brings bad karma to oneself and that is why I think he is having all these problems.

• Philippines
29 Nov 10
i think so too. anybody can detail what is really wrong with him that's why his life is not so fine right now but, yes, karma sums it up. thanks for posting


.