Slow driving driver caused traffic jam.....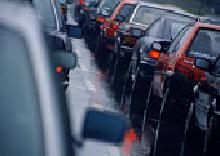 Malaysia
April 19, 2011 5:38am CST
Every morning, when I on my journey to work with my car, there are always traffic jam somewhere of the journey, there will be a long queue of cars moving slowly. I always wonder who are the first car that lead the queue, is he/she driving too slow that caused the traffic jam? why can't he/she drive with a reasonable speed? And sometime traffic jam is caused by some busybody where they like to slow down to watch accident that happen on the road, and the jam always almost completely gone just right after the spot of accident. It is really annoying to get stuck in the traffic jam almost everyday...I really hate it and it is really wasting money and time. What is your view on this? Do you having traffic jam everyday?
9 responses

•
19 Apr 11
Traffic jam is one of the most common thing in Bangkok, Thailand! We can rarely find a moment without traffic jam on the main roads, or even on the highway. But I'm used to it now :D

•
21 Apr 11
Well, there is nothing else I can do. I only have to accept it in order to keep my good mood for the rest of the day. But if I can choose, I'd choose to get rid of such thing.

• Garden Grove, California
22 Apr 11
yspmyl I dont drive and have no car and anyway I am retiredl I am wondering why with all that horrific traffic more working people do not use buses and trains to get to work and back . it would sure save on gas and car taxes and all the rest of expenses too.I always had to use bus to get to work and it beat worrying about traffic jams too.

• Malaysia
26 Apr 11
Hi Hatley, I think if the public transports are so convenience that you do not need to wait and change transport to get to your work place, I believe many people will be willing to use the public transport to save the fuel and taxes and also for the cost of maintaining the car. In my country here, frequent buses are only available in the town area, but if you were to work in the outskirt area where slightly far from the town, you will have to wait hours to get to aboard a bus. And you will need to spend hours to reach your workplace instead of half an hours if you were to drive your own car.

• Malaysia
20 Apr 11
Traffic congestion is a good sign of prosperous at a place. It can not be avoided in our daily life now. If a traffic jam was caused by certain slow vehicles, then those inconsiderate drivers should be compounded. For me, I shall let all of the vehicles behind to over take if I want to slow down my driving speed. I understand that certain area of a country has set the minimum and maximum speed at their highway. All of the vehicles which travel along this highway must drive within this range of speed in order to save the fuel consumption. At other places, a special lane has been reserved for slow vehicles. Most of the while, we have to slow down our vehicle when there is an accident. This is the must to ensure the safety of ourselves and other road users. Be patient and drive.

• Malaysia
26 Apr 11
If the slow drivers really to be compound, I think many people will get compound. I have see so many people who drive with the speed of 50km/h where everyone are rushing their way to work, but because of these slow driving driver, there were long queue behind them. So, if the police traffic can come out in the early morning and catch those slow driving drivers, I think the traffic flow will definitely get much better.

• Philippines
19 Apr 11
That's too bad when caught in the middle of the traffic jam. It's really a waste of time. So,if driving with your own car,i always try to leave home going to work ahead of rush hour. But if really can not avoid the traffic jam...better to keep cool or else,something worst might happen.

• Malaysia
20 Apr 11
Yeah, you are right, it is always good to go out earlier before everybody, so that we can avoid the traffic jam. That is what I did too, but whenever I reached near to the school area, there are always traffic jam that I can't avoid at all, because school open much earlier than other work place. So, no matter how, I still have to stuck in the traffic jam.


• India
19 Apr 11
Slow driving may be the cause of a traffic jam.But many a time people overtake where there is a possibility of getting in front of another car and jamming the traffic.Where one has to maintain a certain speed one ought to do that as non compliance will result in traffic piling up and resulting in a jam.Following rules properly will enable the smooth flow of traffic.

• Malaysia
20 Apr 11
Yeah, traffic jam also caused by those people who do not follow the rules and did not queue up and keep overtake others where a single lane road became double lane, and when at certain point where there are no more room for 2 vehicle to go through side by side, there stuck start and resulted in traffic jam. That will take time for them to go back to smooth traffic but if everyone willing to give way to other, I believe traffic flow will be smooth...

• Philippines
19 Apr 11
In our city traffic jam is observed during rush hours. However, I had observed too that being slow or unreasonable slow pace makes other stuck and its worst if you are at the back .. well, it's totally wasting time. If everyone will be responsible with their actions in driving we can get over easily from the traffic jam everyday.

• Malaysia
20 Apr 11
Hi! You are right, I have many time followed behind someone who drove so slow that caused long queue behind the car which consequently caused traffic jam. They should attend more courses so that they know when to drive fast so that it won't affect other road user. And many time these people know that they are slow, but they just refuse to let other over take their vehicle by going to the side of the road but instead, they just drive slowly in the middle of the road. That is so annoying.

•
20 Apr 11
I hate that too. They should be driving on the slow lane (if there is one) and let the traffic flow smoothly. They should be more considerate as traffic jam adds more stress to our already stressful life. I've seen some d$%k driving super-duper slow on the fast lane and the best thing is, when the other drivers ask him to move aside (by means of honking or flashing), he gave us the middle finger. I know this because I was one of the drivers behind him. Happy Mylotting!!!

• Philippines
20 Apr 11
I really hate traffic especially due to those reasons you have stated above. It is really a headache whenever there is one. Every time there's a traffic, I would usually try my best to sleep (I'm still not permitted to drive yet). It really is a time waster and it is one of the things I hate here in my country - traffic! Sometimes, I would rather walk than riding a PUV (public utility vehicle) or the car, especially when you are going to a nearby place. I also hate the heat and pollution when traffic occurs.

• Israel
19 Apr 11
I know that traffic is one of the big problem everywhere in the world. Every country have the same problem when we talk about traffic. It is really irritating specially when you are in a hurry and suddenly you stop in the middle of the road because of traffic and much more irritating when you see someone in front of you driving with one hand on the wheel and one hand on the cell phone on their ear and moving slowly along the way. And of course as you said, almost all of the driver in all over the world seems have the same problem when there is accident on the road. Every one seems to slowdown in curiosity to see what happened, and this curiosity build a very long traffic jam. So irritating, right?