Which is most expected day - Day before marriage or day before delivery date?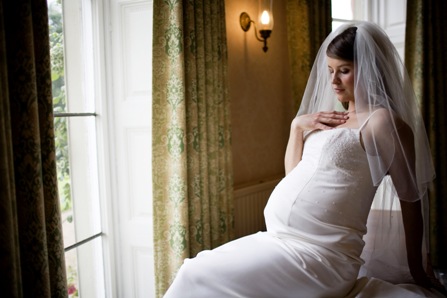 India
August 3, 2011 11:24am CST
My little sister is getting married in few weeks and she is more excited about it. She asked me this question - which is a wonderful day or most expected day on a gals life of this two. I said both are beautiful stage of a woman. But she asks me for one. For most of them it would be the delivery date! I guess... If you were asked this..what would you answer. Which is your most expected beautiful day!
9 responses

•
3 Aug 11
Well, I think that the day before the wedding day is more exciting - the day before the delivery will be more anxious, scared, excited but maybe sad because the mother would not be pregnant. I think my wedding day would be the best day of my life, then the day that I became a mother would be the absolute best day of my life after my wedding day.

• India
4 Aug 11
So nice to hear! Ofcourse most of us would be so excited about the wedding day. And delivery day is equally a mixed emotions as you said, happy, fear, tensed. Happy that you think the Wedding moment is best day of your life, so am I. It was our 5 years of waiting succeeded into a happy marriage life!

• United States
8 Aug 11
It's kinda hard to answer because the both are the most exciting days of a womans life but as well kinda scary in a exciting way. However, I believe that if I had to pick it would be my wedding day because of the simple fact that for labor and delivery would be filled more with a little more worry of what if's and the changes that the body would go through during labor.

• India
9 Aug 11
True Divine, I feel the same. Wedding is more happy experience and exciting where there are less worries and it gives more expectation. Its full of happiness, whereas delivery a bit of little worry about the little one!

• Japan
4 Aug 11
Um, I would say that none of them is my most expected day. I dislike kids so I'm not having any, and probably it was more important for me the day I met my partner than the day before we marry, as that has a more special meaning, the beginning of everything. The rest is just things that one day happen


• India
9 Aug 11
Nice to hear you love the day you met your partner and so its so memorable to you. So I believe you had a exciting day on meeting your loved one! This is so lovely!

• Philippines
4 Aug 11
Hi besthope44, If I will have to answer this question, for me the most day to be expected is the delivery date because this will be the day that you will be giving birth to a new life to a new adorable human being-baby. Yes, getting married nowadays (in our new generation) is an accomplishment for a woman, preparing marriage is not that easy also and maybe preparing things is one of the reason why us girls feels excitement on our special day, of course! excited to be bind forever with our love. To be married is one of the beautiful day that will ever happen to a woman but a woman giving birth would be the greatest accomplishment of all. You cannot explain on what do you feel when you saw for the first time your new born baby. The delivery date is the most expected event in woman's life because having a kid is a sign that you are now a fully grown woman. Hope that my ideas help you... God bless.

• India
9 Aug 11
Well worded!! Its really convincing. I had more expectations of my little gal and me and hubby use to have lots of names, plans in welcoming her. That was a biggest excitement and a different feeling of a mother. Your ideas are so true and thats a real feel of a woman!

• China
3 Aug 11
Which one is more important to you? Your dad or your mom? The question is like your question. Does chicken comes first or egg comes first? Marriage? Of course, it is a very expected day. Delivery date? Surely, it will be exciting. Marriage is just a ceremoony for both to become a leagal couple, but delivery is totally different. To a woman, delivery means pain and also new life. So I think the latter is the most expected day.

• India
9 Aug 11
lol..Thanks for sharing lbygyh970855. Its just a curiosity to know which will you prioritize first and true both are equally excited moments.


• India
9 Aug 11
True thetis, its most awaited stage of women life. And there involves more expectations and dreams of stepping into a new life. And happiness begins from there into next life.


• India
9 Aug 11
So nice! Yes, i was almost into tears carrying the little angel on hands. Its a most beautiful moment and mothers will really feel that as a unforgettable moments of life.!

• Shingle Springs, California
3 Aug 11
Well here it is, more than 28 years after the wedding, and 14 years after the first child, and I can truly say that they were equally memorable...

• India
9 Aug 11
Experienced answer dawnald, totally agree with you! Both are most memorable moments of our life!

• Philippines
3 Aug 11
There is a difference between the two. Both give us excitement and tension so with happiness. Wedding is really exciting and nervous for bride because she is entering a new stage in her life from being single,now being two with someone to love,care and cherish. Giving birth is a profound feeling with fear,because another life is added. Yes,seeing a new life breathing in front of you,from your own flesh and blood is another kind of feeling and responsibility that no one can define until such time you were there and facing the situation. have a great day

jaiho®

• India
4 Aug 11
Beautifully worded! Its true.. I really felt as an unshared feelings, where i feel it so much excited but i cannot describe how i felt. This is what my experience on both these times. And a truly a new stage and new life for every woman. Its undefinable!!

• India
3 Aug 11
I think the day before marriage because you know in advance the exact date of that day and you do not have any fear , pain etc on that day. The day before delivery is very painful,and lots of fear and uncertainty attached to it.

• India
4 Aug 11
You are right! Marriage day before is full of excitements and lots of plans we would be making out and waiting it eagerly. So as the delivery date, but first delivery is a bit fearful though and an equally excitement with other emotions together. But Marriage day is fully an expected day with lots of happiness.