Careful when you divorce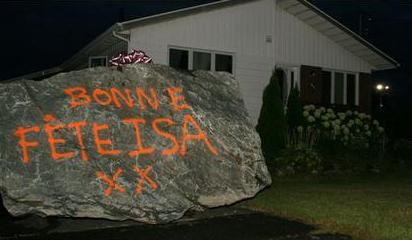 Canada
August 16, 2011 5:52pm CST
This man didnt take too well when his wife asked for a divorce and he thought he should give her a nice gift on her birthday to let her know. So him owning an excavation company and being mayor of the little town, he thought it would be a good idea to deliver a 20 ton boulder (rock) in his wife's driveway. All wrapped up with a nice message spray painted on it. It says, "Happy Birthday Isa" with some kisses. He was ordered to remove the rock or be charged. It doesnt say in the story in the link at the bottom but he did remove it. Makes you wonder what he was thinking. I know he said his wife always wanted a "big rock" for her birthday but this is ridiculous especially when you know that the divorce is not going too well. Id be very afraid if I were the woman and I think Id want to move away. Who knows what he'll want to deliver next time? What do you think about this man's action? Do you see any humor in it or do you feel he's a being too sarcastic? Or maybe he simply wanted some free advertisement for his excavation company? http://montreal.ctv.ca/servlet/an/local/CTVNews/20110815/mtl_rock_mayor_110815/20110815/?hub=MontrealHome
9 responses

• China
19 Aug 11
I simply can't conceive why the man did so.Delivering a 20 ton boulder in his wife's driveway,Whether he made a show of his sincerity thus hope against hope his wife would come around,because she like big rock.

• Canada
19 Aug 11
Unfortunately, it wasnt a show of sincerity, it was a show of his manhood, his pride, and some sarcasm!! He wanted to hurt her emotionally in the process. I can only hope that nothing more will happen.

• China
20 Aug 11
Was there a need for the man to domineer his wife?

• Canada
29 Aug 11
I think that most men (not all of them, but a large majority of men) want to dominate their wives. Probably some remnants of the "cave man" !!! But more and more men are learning to treat the women as equals.......of course not in some Arab countries where women are still a piece of property!!!


• Philippines
17 Aug 11
I think what the man did was to embarrass her not to win her back.Since the woman want a divorce and maybe he won't accept the fact that her love for him was gone.He said she wants a present but this act is not, but an insult to her.

• Canada
17 Aug 11
I think so too. He sounded hurt that she was the one to ask for the divorce. He was being very sarcastic when they interviewed him on tv. Lets just say that I wouldnt want to be anywhere near that man.

• Philippines
18 Aug 11
Yeah, your absolutely right my friend.Being with that man is dangerous,he is too proud of himself.Maybe that's the reason why the woman dumped him.

• Canada
18 Aug 11
Maybe but I believe its never the fault of one partner, it has to have a bit of the two. I divorced a long time ago and I wont say all the blame was on him, I had my faults also.



• Canada
17 Aug 11
They ARE divorced already. He didnt take it well I reckon. Id be angry also but first thing I did when I divorced was to move away, as far away as I could. One never knows what a man can do.......we have the proof there!!

• Canada
18 Aug 11
I wonder why that is? Its as if their pride was hurt. If people make a mistake by getting married and want to fix that mistake, nobody is really to blame, so I dont see why men take it this way. I thought it was because the woman asked for the divorce first but one of my uncles had a mistress and he finally asked for a divorce and she gave it to him....but then he was angry with her. Same with my brother who cheated on his wife, asked for a divorced and then kept talking badly about her all the time?!?!? I dont get it. They should do a research on this because here, we have a LOT of men killing their ex wives or girlfriends. One did just this week, 21 yr old girl....he shot her because she didnt want to go out with him anymore!!!!



•
18 Aug 11
looks like the decision to get divorced was the right one.

• Sweden
17 Aug 11
his action to place that big rock on her drive way was a very provoking action to show his ill-humour. It can intepreted, that by divorcing me you won't get me out of your life that easily. It's only a theory of his action about that rock. Well I do hope it turn out well in the end.


• Canada
18 Aug 11
Im afraid that it might not turn well in the end. Just this week we had a young man in his 20's kill his ex girlfriend of 21. He shot her because she didnt want to go out with him. A few months ago, a doctor stapped numerous times his 2 little kids because his wife left him. Thats all we hear lately, men killing their exes. I sure hope she'll decide to move far away from him but Im sure she wont.


• Philippines
17 Aug 11
I cant get well with your story but the thing that struck my heart is be careful about divorce. Anyway, we need to be very careful in this matter coz this is not a game that if we have a wrong move then too easy to quit. Here in my place divorce is not allowed. We dont have such kind of rules so if you decide to have a wife or husband meaning that you are really tied. married here is valued ever. And hard to quit legally once you are done. Even you feel you wanted to quit well you cant. But others may do it..

• Canada
17 Aug 11
I didnt know you couldnt divorce in some countries. Here nearly everybody is divorced at least once. Its like the "thing" to do!! In a way, Im happy we can here because I would have been very unhappy with my first husband. But now I made the right choice and we've been together for 30+ years


• United States
17 Aug 11
I have to admit that if it were me receiving it I would be amused one bit. But reading the story makes me think that it is kind of funny though. I guess it was better then causing any sort of harm, but I am sure the wife was not happy receiving it also.


• Canada
17 Aug 11
No the wife wasnt happy at all. Most people thought it was funny but we're not the wife and we werent married to this guy. She said he keeps harassing her and he said she nags him and that since she always wanted a big rock (diamond Im thinking) he was giving her one. He sounded really sarcastic on tv when interviewed. Some people said she should have sold the boulder and keep the money LOL.....Im thinking he would have gone into a rage then. Im not sure how I would have reacted if my ex would have done this to me.!!!!

• Philippines
17 Aug 11
well, the man was simply trying to win back her woman to his life. and he was trying to be outrageous to catch her attention. i think he did with his gift. but it was not that effective. the love was gone, i guess on the part of the woman. but i appreciate the effort of the man to win back her heart. that was brave and commendable. maybe in other way, man. maybe..

• Canada
17 Aug 11
I didnt see it that way. Oh sure he must be angry and hurt because she asked for a divorce, but this is the wrong way to win her back haha. He looked more sarcastic about it on tv when they interviewed him. I think he needs to learn some manners when it comes to love !!!

• United States
17 Aug 11
Maybe he was so mad he wanted to do something mean and hateful, but restrained himself and only did this. I know that sometimes I have been so mad that I have wanted to hurt someone or something, only instead I just said what I wanted to do. Since he was ordered to remove it, I can see it as a little bit humorous. I admit, I would not see it that way if it was me.

• Canada
17 Aug 11
@
GG: I sure hope this is his way of letting out steam. If a man can deliver a 20 ton rock, go through all this trouble, imagine what else he might do. He said his wife was nagging him and being difficult on tv. She said he was obsessive and not cooperating and being violent. Who knows who's telling the truth. I think that both partners are to blame. Someone said she should have sold the boulder LOL. Im guessing that would have had him even more in a rage.
@
Stowyk: Im not sure how I would have reacted if my ex had done something like that. Yes its mean in a way because if the cops hadnt ordered him to take it away, she would have had to pay someone to do it.