Low Blood Sugar--what is the reason behind?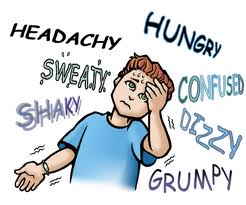 China
August 29, 2011 4:40am CST
Today (August 29th, 2011) I took one of my foreign colleagues, Gwyneth, to have a medical examination in our provincial health care center. One of the items is to have a blood test. It was within five minutes after the blood test that she felt very dizzy and almost fainted. I was right there and helped her to lie down on a long sofa for a rest advised by a woman doctor. The doctor told me that she was having low blood sugar levels that caused this kind of phenomenon and that a good rest was needed. Gwyneth told me she had had the same case before with a blood test. I am wondering whether there is a good way to stop it from happening when having a blood test. What is the reason behind for a low blood sugar? Would you mind sharing with me about it? Thanks for your response. Take care and have a good day.
9 responses

• India
29 Aug 11
Hello friend,

how are you? Wife of my brother has this problem, she carries glucose always, as soon as she feels like what you have said, she dissolves 2 spoonfuls in water and swallos, at times she keeps the powder over tounge and sucks, it gives instant relief.. Thanks for sharing Best of luck.

Professor

• China
29 Aug 11
Hello dear Professor. Thank you for the response and I am glad that I am getting to know more and more about low blood sugar with more of your responses. So glucose helps to some degree. By the way, I am fine and back to school for the new school term. Thank you so much for the greeting and I hope you are doing well also. Take care.

• India
29 Aug 11
I am retired in April 2006, after teaching for 46 years in university and colleges, now i have health issues due to diabetes neuropath.. blessings

• China
30 Aug 11
I wish you to take good care of yourself and enjoy your retired life. Blessings, Professor.

• Philippines
29 Aug 11
Low blood sugar level or hypoglycemia is a condition where there is low blood sugar level in the body and that low blood sugar is supplied to the brain. This can be prevented by proper medical treatment by consulting an endocrinologist who specializes in the treatment and management of all endocrine glands malfunction. A practical remedy for hypoglycemia is to take sugar solution or candy when you feel some dizziness,cold clammy perspiration and weakness. Sugar can give immediate relief especially if it is put under the tongue where there is fast absorption.

• China
29 Aug 11
That is why Gwyneth told me to take out a piece of snickers for her to chew. She had prepared it in advance, as she told me. And it did work after a few more minutes. Thanks for the informative response that helps me to understand it a lot better.

• Philippines
30 Aug 11
You're welcome. It happened to me several times so I know what the experience is.:-) I am fond of dieting :-D and that's the reason why I had those bouts. Many times I forget that I can't tolerate not taking anything. I even had a funny experience of the hypoglycemic bout in the mall. My companion just noticed that there was a gradual slowing down of my steps. She did not know that I was too weak to move my feet and I told her I can't walk . hahaha. So she has to rush me to a nearby fast food to take something and she continued her shopping while I was eating . When she came back I was back on my feet and smiling at her. But she got so nervous that she panicked. From that time on, I always keep a bar of chocolate in my bag whenever I go out to prevent having hypoglycemic attacks.

• Malaysia
1 Sep 11
Hi jisir, I had just mentioned about you in one of the discussions I had joined yesterday and glad to see your new discussion notification while checking my mailbox today

Even though I have very little knowledge related to this, still I have interest to learn more reading the posts available here. I have friends with diabetes suffer from too high or too low blood sugar level. So they have to appropriate food, suitable physical exercise other than taking medicine to balance their blood sugar level to prevent any undesired dizzy, cold sweating, pallor, anxiety, etc. Thanks for the sharing for I have gained valuable info from it

Happy posting


• China
12 Sep 11
Hello lkbooi. I have learned quite a lot from the responses pouring in. Early tomorrow morning (September 13th), I will take another foreign teacher to Hangzhou for a medical examination. Today I told him, our Australian teacher, to bring some snacks with him so that he can eat something right after the blood test tomorrow morning in case the same thing happens. Of course, prevention is better than not. Thank you so much for the response, my dear lkbooi. Today is our Middle-autumn Festival. I wish you a Happy Moon Festival with your family.

• Guangzhou, China
30 Aug 11
I think sometimes I will have this problem, too. Especially when I am very hungry. I wonder whether usually the people who have low blood sugar are thin. We don't have more fat inside to burn. So when we are hungry, sometimes we will feel faint. Usually we will be alright when we eat something. Your colleague had the blood test in the morning and I am sure she didn't have a breakfast at that time. Perhaps this is why she didn't feel well after that. It should not be any big problems to this issue. I love China




• China
31 Aug 11
Morning, youless. You are right that she was asked not to have breakfast before having the medical examination. So that could be part of the reason that caused her feeling dizzy with a pale face. In fact, I did not have breakfast, either, as we had to get up early leaving me no time for breakfast and when we got to the medical center, I started to help them with the procedures for the examination and did not eat anything until after eleven. I was so hungry at around seven when I was in the car, but gradually I did not feel so hungry. It is no good to skip breakfast as it does bad to our health. Take care,youless.

• Holiday, Florida
29 Aug 11

if it was a fasting test where she had nothing to eat that day, then yes this would happen. its happened to me and ive had to have a sucker/lolipop/whatever handy to bring it back up after the test. not much you can do unless you get something right after the test. are they sure she did not have a panic attack? that happens after that also


• China
30 Aug 11
Hello bunnybon. Gwyneth had such an experience before and prepared something sweet to eat, but she didn't expect it to happen so soon within a few minutes. Thank goodness. She was fine again some time after lying on a folded sofa in the center. Take care, friend.

• Malaysia
29 Aug 11
Hi William ~ as we all knew the basic procedure before taking blood test is to take fast for 8 - 12 hours OR in other words do not eat or drink anything past midnight a day before the testing. I profoundly experienced this kind of situation during my previous treatment for my sudden heart attack on February 10, 2008. So, to avoid from having too low blood sugar level (LBSL) after taking blood test, just ensure taking heavy meal before the scheduled fasting period. Another thing to understand is about when is "Empty Stomach Level" happens? It is about 2 hours after taking any meal. Meaning that, the rest hours (10) within the fasting period our body is using the stored fat. Don't worry about Gwyneth's health status regarding her LBLS, as it isn't a disease but only a common phenomenon. I do believe she got the TRUE results from her latest blood test. I also do hope that she has heard about what is HLB Blood Test? A blood test which I had been going through for years (I shared long time ago an article on internet about how HLB Blood Test works and looks like ~ youtube & blog). VIDEO - Feb 17, 2009: MDMN Group - HLB Blood Test - YouTube http://www.youtube.com/watch?v=Wtqs8gOqx1I

• China
30 Aug 11
Hello Michael. It is very nice to read your response again after so long a time without my being as active here as before due to my busy work and some other reasons on my side. This new colleague of mine knows about it as she experienced it before. I was very nervous at the sight of feeling so awful just a few minutes of the blood test, but was lucky to have a doctor and another lady who was also waiting to have a blood test for help. Otherwise I would be at a loss. When Gwyneth got better, she ate a banana and a snicker she prepared in her bag. Now it reminds me of my feeling dizzy a few times when I didn't have a good rest and went hungry without having my regular meal on time. I guess that this might be also some kind of low blood sugar. I should be aware of it and take good care of my health. I wish you to enjoy good health, Michael. Have a good day.

• Philippines
29 Aug 11
She may have an over-active pancreas - this is the organ that releases insulin during digestion and is responsible in maintaining a normal blood sugar level. It's ggod to include in her blood test the so called Hb1ac test. This determines her blood sugar level for the past 90 days. Abnormal blood sugar levels also indicate pre-diabetes stage. Hope she'd visit her doctor again and tell her about her glucose level.

• China
29 Aug 11
I think that she should be aware of her health since she has already had the same case before. Thanks so much for the mention and I will remind her of it.

• United States
15 Sep 11
Around here, especially when a person has to give a lot of blood for blood tests, especially if they are prone to have Health issues like Diabetes, etc. they usually will ask the person if they are OK, or dizzy and will even offer some juice for them if need be. Have they ever offered juice or anything to your colleague when this happens, or have any explanations for this?

• India
30 Aug 11
[b] Hello my friend williamjisir Ji, well I would say that people having such things must eat sufficient sugar before such tests. I would bring out something from experts as below :
"But for quick first aid you should know how to avert prolonged blackouts that may cause irreparable brain damage. Signs of coming attack: clamminess, dilation of the Pupils, which is connected with increased sensitivity to light, faster pulse, shakiness, jitters. These may be followed with fainting after which confusion and disorientation may appear. To avert these or other symptoms you may eat candy, a rich dessert, or drink cola, or other sweetened fluids. But never consider these a treatment, because if you do not do something else, the symptoms will come back soon. It is much better to prevent the symptoms by eating some protein food about an hour before the symptoms usually appear, and follow the diet prescribed for low blood sugar patients, even before you can see a doctor for thorough examination.
Also go through http://www.hbci.com/~wenonah/new/blood-s.htm Thanks. May God bless You and have a great time.