No panic when a storm is coming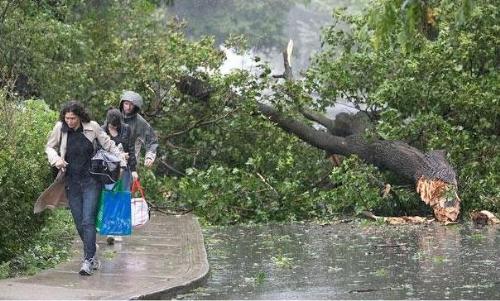 Canada
August 29, 2011 5:28pm CST
I guess we dont panic when it comes to a storm here in Montreal. I was trying to get some information on tv about what was going on and I couldnt find anything here. I was listening to Vermont tv to know where hurricane Irene was. At the beginning, it sure sounded like we would get hit hard with tons of rain and very strong winds. We did get the rain and some places were flooded. The winds were very strong too and trees were uprooted. I live North-West of Montreal and we only lost a few tree branches. Our power went out all of Sunday afternoon and to be honest, Im not sure why the power went out as it wasnt that bad. Ive seen worst a few years ago. I guess they decided to cut off power just in case. Im glad its over, unfortunately one man is presumed dead. A taxi driver who was very much loved in the town he lived in

. Two cars when in a river when the road they were on was flooded. The driver of the first car managed to get out of his car and hang on to rocks on the river banks. The passenger of the taxi did get out, managed to swim to a house and call for help for the first driver

. The taxi driver hasnt been found as of yet. Today the sun is shining as if nothing happened. Have you been in the path of hurricane Irene? How did it go for you?
1 response

• United States
7 Sep 11
We do not get hurricane related weather. We could use some rain. It seems there are a number of disasters happening, and some loss of life. We would be more likely to get fires like they are having in Texas right now. I do not panic, but I like to have extra supplies and batteries on hand. My gut is telling me that we may have a really bad winter, and I would like a portable generator. Four years ago we did not lose power but many towns around us were out for as much as a month.

• Canada
26 Sep 11
You MUST get a portable generator. I think it was 10 yrs ago, we had a huge ice storm that lasted for a couple days. Everything was covered in thick ice. Power went out and the whole province was blacked out. Most people had no power for a whole month. It was awful because it was cold. Right before the storm, I told hubby they were talking about an ice storm and told him we needed to buy a generator. He did and thank God he did. We could plug in the freezer and fridge. We were using our fireplace then, so it kept the livingroom and kitchen warm. It prevented us from losing all the food I had in the freezers and I could cook also. We couldnt get out much because all the roads were too icy. I had enough food to last us a while. Our power came back on after 2 days here, then would be out for another 2 days. It was like this for a whole month. Some people never had the luck of having their power back on.......I guess we did because theres a BS from the power company that lives on our street. So thats probably why. If you're to get a portable generator, make sure you can plug a few things on it. Usually freezers are the most important, but a few lamps also can be great. Some will support portable heaters also. Its very noisy though and everybody in the area will know you have one. You also need to make sure its outdoors and safe because when the power goes out, everybody will want to use your generator or steal it from you. We're thinking of buying a bigger one eventually so we can find a way to hook up the water heater. Heating water on the stove is time consuming!!!

• United States
27 Sep 11
We have talked about it, but right now I am fortunate to have enough money to pay the bills. It definitely would be nice if we were without power. Of course, if it were bitterly cold I would just take the stuff from the freezer and put it in a cooler chest outside. I just have this uneasy feeling that we may get a bad winter here.