What will you think if Bill Gates died?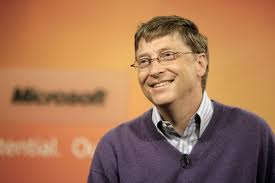 Guangzhou, China
October 7, 2011 4:14am CST
Steve Jobs is gone and many people feel sad to it. And many people miss him. Suppose if Bill Gates died, what will you think about it?
5 responses

• United States
7 Oct 11
I would not miss Bill Gates at all. The only curiosity would be where his money went afterwards. I don't think he has done anything much in terms of technology, as other people are the programmers for Windows. Even as a businessman, I don't like his methods. Giving away supposedly free items, and then charging a hefty license fee, isn't very charitable! Then knowingly making and selling a defective product has been the hallmark of Microsoft. Steve may go to a better place but Gates is destined for hell.

• Pasay, Philippines
7 Oct 11

This one make me laugh. To think that when we are purchasing desktop computer the Microsoft Windows are not yet installed that you also have to purchased or pay another fee to have original licensed Microsoft Windows.

• United States
9 Oct 11
I would be deeply upset, because he's been a role model to me ever since elementary school. He has inspired me to work in the IT field and make money by selling software products. BTY- Youless. Your profile picture has a really big resemblance to my cousin. He was at my house just a few hours ago. Well, he's an Indian, but I think there has been lots of genetic breeding within our family. Lots of Chinese facial features rule our family line.

• United States
11 Oct 11
I would probably feel the same way or even worse most likely.

• Pasay, Philippines
7 Oct 11
The other poster is right that he will be having media attention as well, I could imagine that.

• China
7 Oct 11
If it were true,needless to say I should feel sorry for him.We cherish the memory of everybody who makes a great contribution to humanity.


• China
8 Oct 11
However man is mortal,the same with famous people.