Small Christmas Trees

United States
November 15, 2011 3:25pm CST
I have decided to try to sell some of these little Christmas trees that I am making online. I put an ad on craigslist and I am thinking of putting one of Listia soon too. I worked on these the other day and they are really cute. I needed an idea to use some of the pine cones out of our yard and this worked good.
7 responses


• United States
16 Nov 11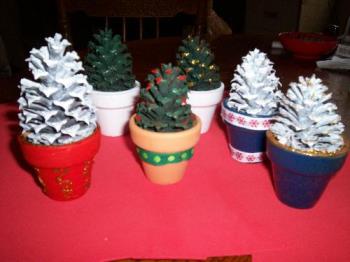 I will try to add it here again. Thanks for looking and I would not care if you made them anyway.

• United States
18 Nov 11
Thanks. I thought about selling them for $5 a set of 6 and I could probably ship them to you for a decent price if you would be interested. Thanks!



• United States
28 Nov 11
Thanks! I am selling a few of them. I thought that they were a cute idea and really turned out good.

• United States
16 Nov 11
I am going to do some pine cone crafts with the kiddos that show up at my brother's for Thanksgiving. good luck with your sales.

• United States
27 Nov 11
Thanks! I have sold a few locally. They make great gifts!


• United States
16 Nov 11
Thanks! I hope so too. I put a picture of these on here somewhere, but not with this discussion, which is where I thought it was.


•
30 Nov 11
I found the photo and i will say that they look really good.I am glad that you have had the idea to sell these items, i think that they will sell really well indeed.I feel that there are some really nice things that people make, yet they never try to sell them.Good luck.