Reading ur clock " AM/PM or 24H"!!!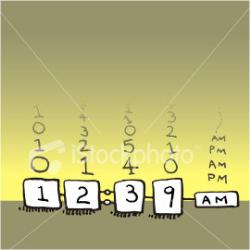 United States
8 responses

• United States
21 Nov 06
thank u very much...u r support me....nice day .. bye


• United States
21 Nov 06
Are you kidding? Even though I was in the military, I would still have to count on my fingers. Because I know 3pm is 1500hrs and 6pm is 1800 hrs. Other than that, if it is PM, you bet I am sitting there counting. OK, if 6pm is 1800...just add No way, I have am/pm on my clock! LOL Intersting question!

• Bangladesh
21 Nov 06
i think am/pm is better than 24 hours.

• Australia
22 Jan 07
I prefer the AM/PM clock because it's what we tend to use here in Australia. Some VCRs have the 24 hour clock but most others give you the option and I'll always pick the AM/PM. I suppose it's a visual thing - we don't say it's 1400 or 14 hours, we'll say it's 2 o'clock in the afternoon or 2 p.m. I htink the 24 hour clock is more a European thing?