Do you like convertible cars?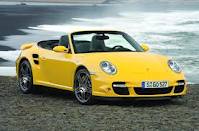 Guangzhou, China
January 20, 2012 4:58am CST
If you can afford to a convertible car, will you like to drive it? I am not interested in the convertible car although it looks cool and it also shows that you are a rich person. As the air is worse in the road. I don't need a convertible car as if I am a vacuumn cleaner in the road

7 responses

• United States
21 Jan 12
I have had two convertibles. One was a BMW 325ic and the other was a BMW Z4. I live in a very hot climate and had to get rid of both because I could only use them for about two months out of the year. You can actually drive with the top down and the windows up and the wind is not bad. If you drive with windows down and top down you NEED a hat. It is that windy. Note also that it is also very loud. I would drive one before you buy it to see if you like it. If I had the $$$ to purchase a car just for fun I would buy one again! Thanks

Zelo




• Boise, Idaho
21 Jan 12
I have very long hair. I don't like the wind that whips my hair around and usually ends up in my mouth. Sure they look cool and such but why have one that you usually have the top up on because you don't like the wind in your hair?

• Boise, Idaho
24 Jan 12
Ya, and what is the use in having a convertible if you have the top up all the time?

• Philippines
20 Jan 12
hi youless! if i can afford to buy a convertible car, i would not buy one nor will i want to drive it. i don't feel secured in an open vehicle. i want to have an enclosed case around me. hehe...i really don't like the air messing my hair and i do agree with you, the air is worse nowadays, so much pollution in the city. take care and blessings to you! lovelots..faith210


• Malaysia
21 Jan 12
Youless, i am not interested in buying convertible car. It is not suitable to me, since i prefer to buy family car, so able to bring my family along whenever i am going out from home. Besides that, i don't want to see my hair gone messy, since i have a shoulder length hair. Are you planning to buy one of those cars?

• India
20 Jan 12
Nope, would never buy one even if I can afford it. I like being enclosed when I am in a car. Outside noise, the wind, etc....I can't take it. Thew wind messed my hair up and made it so difficult to comb through later. In India, it is too hot to drive top down in the summer anyway, not to mention the noise.

•
21 Jan 12
I hate convertible car because is fanciful.