any body do different kind of paintings?..

United States
8 responses

• United States
22 Nov 06
I do mostly acrylic and also colored pencil. I sell them on Ebay, but list them on Art By Us as well. I also do ACEOs (trading card sized-paintings). If you like anything art related, you should check out Wetcanvas.com.


• India
3 Dec 06
hey .. even i do fabric painting , papyrus paper painting and oil painting .. have never tried body painting .. but have seen many people do it


• Canada
22 Nov 06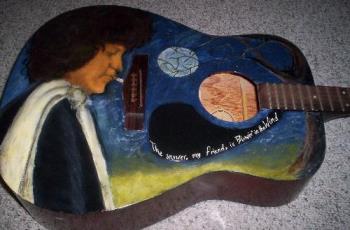 Here is a picture of the guitar I painted. It's Bob Dylan, one of my heroes. Let me know what you think. I think it turned out alright.

• Canada
22 Nov 06
I paint mostly acrylics on canvas, but I also recently painted a picture on the body of a guitar, also with acrylics. I'm also starting to get into painting on big pieces of felt, which I think i'm going to try spraypainting on. I've also done a little bit of airbrush painting.