Do you have to punch in and out when going to work and off work every day?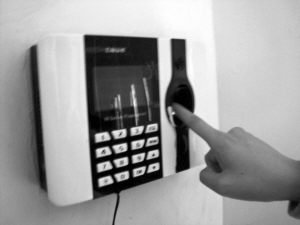 China
January 29, 2013 10:48pm CST
We have been required to punch in and punch out on a punching machine when we come to and go off from work four times a day, twice in the morning, and twice in the afternoon. When we punch in or out, we just press our previously recorded finger. Sometimes it is possible for us to forget about punching. The punching machine is not welcome. I remember there were a few times when some others put glue on it that it could not be used at all till it was made clean. Also it was repaired for a few times. I am wondering whether you guys also have to punch in or out when you go to work and leave work every day. Thanks a lot in advance for your response. January 30th, 2013. 12:48a.m.
10 responses

• Philippines
30 Jan 13
yup we do have this at work and ours was a bit biometrics already. I bwlieve this is to ensure tha you wont be able to log for your colleauges. When we log in... We tap ou ids for the id no. The id no. Can be manually encoded if the syatem cant read your id. And then o cobfirm the log in or log out you had to haave to place your pointer finger and have the system verify it. =)

• China
29 Apr 13
You are right that they use this machine to prevent us from logging for our colleagues. Now we are used to it and have to be used to it.


• India
28 Apr 13
well, before when i was working and used to go office i was punching daily ... but right now i am housewife and doing online job does not need any punching...



• India
30 Apr 13
i love to work for my self and when and how i want to do ... i really do not like to have any boss.. i like to be my own boss..

• United States
7 Mar 13
We have a time clock with time cards that you clock in and out from. It is how they figure out how to pay you. It usually works with no problem except for when their is a glitch which has happened at least once in the almost 7 yrs I have worked there.

• China
8 Mar 13
So to some degree, it is also somewhat alike to our working system. Thank you for the response and I appreciate it. Have a wonderful day, KrauseHome.

• Delhi, India
30 Jan 13
Hi! We also have punching system in our office somewhat differently. We are required to put our finger impression on the machines installed at the gates at the time of arriving and departing our office. Sometimes, we also forget to record our finger impression and leave for homes. Once in a while it is acceptable by the authorities.



• Sterling, Virginia
30 Jan 13
When I did work, yes I had to punch in and out all of the time even for lunch. I really hated it because before in my other jobs you clocked in on a computer not a digital key pad.

• China
10 Feb 13
Hello ShyBear. Thanks so much for the response. Have a wonderful day.

• Malaysia
30 Jan 13
Yes, I always punch in once and punch out once everyday when I go to work. There is one time, I really forgot to punch out. At that time, I already walk quite a distance away from my workplace and suddenly I felt that I had miss out to do something. As you already can guess, that is, I forgot to punch out. So, I had no choice but to turn back and go back to my workplace to punch out. Otherwise, I might miss my pay for the day.

• China
14 Apr 13
Hello tshihmin. If we forget to punch in or out, we will get some of our bonus duducted at the end of the year. So that's why we are not much in for it.

• Davao, Philippines
30 Jan 13
I used to work with punching machine before but we didn't used our fingers to do it. It was a cheaper punching machine that very affordable to buy. It was 10 years ago. Now, technology already develop the company I am working before used the same punching machine similar to what you mention. For 2 years working in a 5 star hotel we didn't required punching of our time record. We used manual daily time record inside our department. But we are required to swipe our ID in the main entrance of the hotel to be monitored that we enter the hotel premises.


• China
14 Apr 13
The bosses can always find some ways to make their employees to report their arrival at and departure from work. Take care, julyteen.

• India
26 Feb 13
Hi, here too we have to punch our Id cards everyday. That keeps our time records. There were some issues with access in between, but now those are solved. I would say that this system might look burdensome, but it works.

• Philippines
30 Jan 13
We only punch in and out 2 times a day. Its enough already for our daily task. We only have to work for 8 hours, so basically we login during the morning and punch out in the afternoon. From monday to fridays, that's all we need to work..


• China
23 Feb 13
Hello pals. Sorry for the late response due to my long holiday. It is wonderful to punch in and out twice a day, not like us twice in the morning and twice in the afternoon. Now I am back to school today. Very soon we will have to do the punching again. Take care, pals.

• India
30 Jan 13
Thanks for this discussion friend. Are you talking about the machine installed in your college/school you work? You know i am retired now, but we never had that, no attendance register even for teaching staff, it was only for non-teaching staff only.

• China
14 Apr 13
Yeah, I am talking about the attendance register in our school. It is not a welcoming machine, but we have to get used to it as required.