Problems by viewing interests.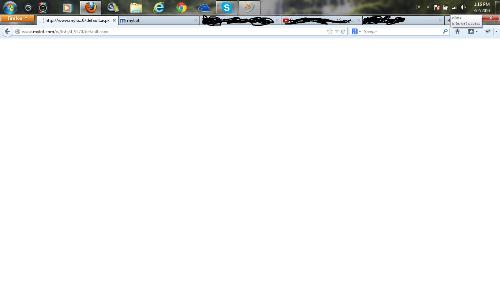 Latvia
March 2, 2013 5:19am CST
I am still amazed for my come back to mylot community, but I noticed some problems by viewing interests. Whenever I try to open some interests my internet browser just stop working and I just see blank white page. I noticed that it happens when I try open interests such as "make extra money", "enjoy life", "love" and much more. It's really frustrating when I watch top background where are showed interests when someone creates new discussion and I can't access them. Does anyone of you have experienced the same? Or It is just for me? I am not sure where the problem could be.

10 responses

• Hyderabad, India
2 Mar 13
I have noticed this problem myself but for me its very infrequent and only happens when I try to access the page where we approve friend requests. Sometimes it is annoying but I seem to have found a way to get the page to display eventually. Just go to the page you want to visit.If you encounter the problem, just press F5 or the refresh button at the top of your browser. It works for me every time.

• Pamplona, Spain
2 Mar 13
Hiya ET2, Could it be the Mozilla Firefox itself as I cannot open windows at the moment only tabs and I have to write in the search box right at the top of the pages. Sometimes when I look at my earnings page in mylot or approve a friend the page comes up as blank as well. So its a bit hard for me to know where the problem is I have had great problems posting on here a few days sometimes because of very bad speed or other silly things going on like you go to post your post and it just vanishes so hence I have been copying and pasting sometimes. Oh well just have to have a bit of patience things are very trying in normal life just lately and last night I gave up posting or writing as I just don´t have enough time every day now today its gone back to normal thank goodness.xxx






• Latvia
2 Mar 13
The problem is with mylot system servers or script or with my internet browser. Because, I have good network connection and I didn't have this problems before. I am using mozila firefox as internet browser at the moment, so I will try to change it to another internet browser.

• Boise, Idaho
2 Mar 13
I have experienced pages loading slowly. It is a glitch and I hope that Mylot Administration is aware of it. THe site has been having some problems for the last few months. It seems that Mylotters have had different experiences as far as glitches. I find that by using the refresh option it helps bring the page up.

• Boise, Idaho
2 Mar 13
I think everyone is experiencing different things as far as the glitches. It makes me upset when I am getting notifications for awhile and am used to them and making good money daily because of them and then suddenly they are gone. That upsets me!

• France
2 Mar 13
I have this glitch times to times, and I think it is a problem with the server at myLot, but I have not it systematically for a particular interest. Maybe you should try to clean your cache and cookies and try again, or to use another browser to see if it still happens ?

• Latvia
2 Mar 13
Oh at least I am not only who have this problem, because I get bit scared about It. Hmm I get this bug/glitch with some interests and it don't changes even after refresh or time. I cleaned cookies before two days so I think this is not because It. I will try to use another web browser.


• France
3 Mar 13
I am using Mozilla Prism for myLot, which is a small site specific browser. It is no more developed, but it can still be downloaded. When I get a blank page on an interest, closing and reopening the browser works to fix this glitch. Another advantage of Prism -- it is an advantage only if you are the only person to use a computer --, is that you do not have to log in each time you open myLot : you have to do it only the first time you log in.

• Philippines
2 Mar 13
yes..! as what i response to your previous discussion i also back here in mylot and like you that was a problem also to me for looking some interest and i find out or thinking that some of interest are being remove or let we say move and other category unlike what we been used before and as i hang out here again i find out that there are a lot of change here since my last visit here... obviously the sponsor hyper link for every post that we been made...


• United States
2 Mar 13
It is not just you, and it is very annoying.


• India
2 Mar 13
I have the same problem with interests i dont know the solution for this :-(