Do you shop online?

India
11 responses

• Philippines
11 Mar 13
Nope, I haven't done that. I do online work but never online shopping. It's just that I like to actually see the item and feel it, so I go over to a mall or a store whenever I want to buy something.

• India
13 Mar 13
Ah, well seeing and feeling the item is always necessary! Also mall and store could be a nice day out with a friend. Anyways, thanks for sharing.


• India
10 Mar 13
Great, maybe you should start. Its very easy and hassle free once you find the right website for your country/area. :]

• United States
9 Mar 13
I don't do that much shopping, but I occasionally shop at Amazon. The prices are usually better than store prices, the quality is just as good, and the item usually come in a timely manner.

• India
9 Mar 13
Never shopped on Amazon. But im glad you are enjoying it. :]

• India
9 Mar 13
Yes I do. The only reason behind it is that I can get anything from online without getting into the sun. Earlier I used to do online shopping only because those store were really cheap compared to those real shops. But nowadays I feel going literally to the shopping will save you a huge amount. Most of the online stores are giving discount after increasing their price. The online store which I usually go through is ebay,myntra,jabong etc.

• India
9 Mar 13
Nice, i generally go online shopping too cause of the heat out there. Also its an extra benefit when there is free shipping and cod available on a product. So yah, why waste monies and energy going to a store when you can get what you want just by sitting at home.

• Marikina, Philippines
9 Mar 13
My mom shop online and I do not know what site she buys online. I want to buy something online, but I think before we buy something online, we must have a credit card. That is what I know and so, I have to earn money first to avail a credit card so that I can use it too to buy online.

• India
9 Mar 13
Haha, Well you can buy stuffs online with a debit card too. But then again you have to earn monies to get a debit card as well.

• Canada
10 Mar 13
Occasionally I do. But I like to get to see an object in person before I buy it because you're missing a lot of stuff when you only can see an image. I buy some things on Amazon though, if I can find a good deal, and I bought my new laptop from FutureShop for a nice deal.

• India
10 Mar 13
Your point is true, not being able to see the object in person is kind of a deal breaker. But if you think, you only get to see the object from the outside, they wouldn't let you open a pack just so you could see it. On the other hand, when you shop online you get to see the exact specifications of the product and also the reviews through which you can get the exact same thing you want, minus the going out and spending a day finding what you want. :]

• India
9 Mar 13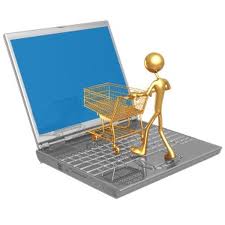 I rarely do online shopping.Ebay is my favourite.One main problem with online shopping is the some time the quality of the product we cant say.

• India
9 Mar 13
Well as long as you don't buy used stuffs you have nothing to be worried about quality of the product. :]

• United States
9 Mar 13
I still like Ebay. I bought several cd's and dvd's form them at Christmas time. A few other things too. I was happy with the sellers service, got great prices and everything came on time!

• India
9 Mar 13
Ebay! was the first online shopping website that i came to know, then i found out that most of the sellers are from USA and its like a pain to get those stuffs through our customs. So never bought anything from there yet. Well at least one of us can enjoy ebay! :P


• Makati, Philippines
9 Mar 13
I still don't try to shop online for buying thins that I need just like in Ebay, Amazon, Lazada, or Zalora. However, I already tried to order online from a company for electronics components. The method of communication is only e-mail but sometimes phone for faster communication.

• India
9 Mar 13
So you do shop online? I have been shopping online for a while now and the one thing that ive learned from all these time, never buy any electronics from an online portal. :P

• India
11 Mar 13
i preffer flipkart they are the best here in india , their service is the best they gives 15 days money back gurantee and they comes to your place to give the product and to take the money. they also accept credit debit and master but the home paying is the best one to me, and for many others as well.