Who has read the Bhagavad Gita?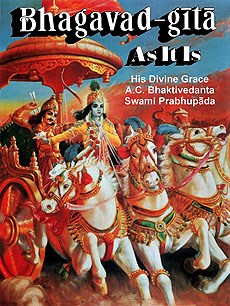 United States
November 22, 2006 3:56pm CST
The Bhagavad-gita is universally renowned as the jewel of India's spiritual wisdom. Spoken by Lord Krishna, the Supreme Personality of Godhead to His intimate disciple Arjuna, the Gita's seven hundred concise verses provide a definitive guide to the science of self realization. No other philosophical or religious work reveals, in such a lucid and profound way, the nature of consciousness, the self, the universe and the Supreme. If you have read it, tell me what you have learnt, in brief. Thank you for participating.
9 responses

• India
23 Nov 06

ya i read.The content of the Bhagavad Gita is a conversation between Krishna and Arjuna taking place on the battlefield of Kurukshetra just prior to the start of a climactic war. Responding to Arjuna's confusion and moral dilemma, Krishna explains to Arjuna his duties and elaborates on number of different Yogic and Vedantic philosophies, with examples and analogies. This has led to the Gita often being described as a concise guide to Hindu philosophy. During the discourse, Krishna reveals his identity as the Supreme Being Himself (Bhagavan), blessing Arjuna with an awe-inspiring glimpse of His divine absolute form.

• United States
23 Nov 06
Yes, Bhagavad Gita is the Supreme Lord Krishna's song. His instructions to Arjuna on how to resolve life existential questions. It is actually not a Hindu philosophy. It is applicable to everyone. Anyone can benefit by udnerstanding what Bhagavad Gita has to offer. Just liek if you get gold, it does not matter whether it is amde by hindu or christian or muslim. Gold is gold. If you have it then youa re benefitted. Similarly Bhagavad Gita shoudl not be treated lieka religous text. It is a philosophical, theistic, scientific, and intellectual masterpiece. Thank you again for your contribution in this post.

• India
23 Dec 06
yea i like it i has tried to read it two times but both the times i get out of the schedule and then am nt able to get on back with that..

• India
24 Nov 06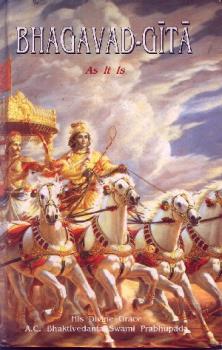 Hare Krsna Yes i do read and try to understand the Bhagvat Gita. In Bhagvat Gita the Lord has said that leave everything and come to me i will protect u. so we should go to him without hesitating But the people see Bhagvat Gita as only a part of the war. The people should change there view and then read the Gita, then only they can understand it.

• India
13 Dec 06
this is the most sacred book of the hindus. it as sacred as the bible. Sridhara Swami's Commentary on Bhagavad-Gita Invocation OM I bow down to the omnipotent Supreme Lord Krishna, the embodiment of supreme bliss, who by His own mouth expressed what had been taught with dexterity by Ananta Sesha's innumerable mouths. Respectfully bowing down to Vishnu the preserver of the universe and Shiva who is in charge of universal destruction and being guided by devotion to them, I am writing this commentary named Subodini on Srimad Bhagavad-Gita. After meticulously scrutinizing the opinions of Sankaracarya's commentary on Srimad Bhagavad- Gita and finding it not fully encompassing, as likewise also the opinions of his followers, I am beginning this Subodini commentary on Srimad Bhagavad-Gita. By reading with intelligence this commentary called Subodini the meaning of Srimad Bhagavad-Gita will be illuminated and thus should always be meditated upon by the wise. The extremely magnanimous Supreme Lord Krishna, whose feet are always worshipable by everyone; manifested Himself as the son of Devaki and Vasudev in this world for the ultimate benefit and welfare of all humanity. The Supreme Lord Krishna with the light of absolute knowledge and the torch of esoteric wisdom, rescued Arjuna, whose discrimination being overpowered by grief and despondency as a result of harboring false conceptions, had the incorrect inclination to renounce his own authorised duty as a ksatriya and accept the unauthorised duties of a brahmana. This very subject taught by the literary incarnation, lila avatara, Krsna Dvaipayana Vyasa is revealed in the seven hundred verses of Srimad Bhagavad-Gita. In these seven hundred verses Krsna Dvaipayana Vyasa has written down all the verses spoken by Lord Krishna in his monumental historical epic, Mahabharata; and with great attention he has at certain places put a few of the verses in narrative form to properly introduce the dialogue of Lord Krishna to Arjuna. Thus this commentary known as Subodini will now commence.


• India
13 Dec 06

Online edition of the renowned Bhagavad-gita, "The Song of God," translation and commentary by His Divine Grace A.C. Bhaktivedanta Swami Prabhupada. Read the Bhagavad Gita to wisht this link http://www.krishna.com its also a good link

• India
11 Dec 06
sorry i like to read but ...due to some kind of reason i am not able to read well according to me it have all the secrets of winning and loosing

• India
11 Dec 06
Ya, its a life trainer. Teaches all the basic thinks in the life. Its like a ocean of facts of life. Wat do u say?