The gap-toothed can be pretty, too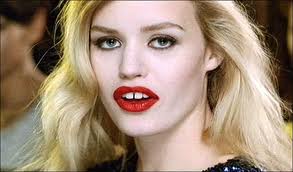 Guangzhou, China
March 24, 2013 10:52am CST
In the past we thought the gap-toothed people had the disadvantage because it was not beautiful. The people had to try to fix it. However, today people may have the different opinion to it. Since there are some gap-toothed models have this special look, it make them extraordinary and we think it is also a kind of beauty. It is no longer a disadvantage.
8 responses

• Boise, Idaho
25 Mar 13
I have recently heard a story of a dentist that had to turn people away. They wanted to get a gap in their teeth. Several at a time. Like there was a fad starting or something.

• Boise, Idaho
25 Mar 13


• Philippines
24 Mar 13
I agree that it may not be a big issue today compared in the past years. However, we can't deny the fact that it is good to have a straight or almost perfect set of teeth. I do not have this "gap tooth" but I wish my teeth were "straighter"(if there's such a word, sorry not a native English speaker here)

• Malaysia
26 Mar 13
I have never thought of people having gap-tooth is not pretty. In fact I have some friends with such teeth and they are still considered hot by others. So it has never been a problem here. Only if their teeth is very badly arranged or lost several teeth than that will be considered as having disadvantage as it is clear that their attractiveness is penalized by their teeth.



• United States
27 Mar 13
Yes! Gap tooth can be very pretty, both in men and women. Teeth are not something I pay much attention to. I think I'd rather have a nice personality. However, I can tell you that imperfections in the physical appearance can actually add to the uniqueness and therefore beauty of the individual. Larger noses, for example, are another example. Some people really look good with larger noses. I think it is a think of beauty, while others do not.

• United Kingdom
24 Mar 13
That is quite refreshing to hear, because being gap-toothed could be seen as an imperfection and you hear too many times that models have to be 100% perfect, well a perfect model doesn't exist, they have imperfections! I think it's a distinct look.

• United States
24 Mar 13
As our human evolution changes so does the trends of things. Of course we also have surgeries that change trends as well. I guess what I am saying is that because of our diets and such things like our teeth change, and it goes from only a few (minority) having it to a lot (majority) and majority rules.