Where are the Ban Hammers?

United States
April 24, 2013 3:16pm CST
Just something I'm wondering -- not a big deal and certainly not the first time it's been addressed. But pressure cooker bombs don't seem to strike the same chord as guns. When there's gun violence in Anytown USA, not only do anti-gun American citizens speak up, but so too do folks from around the globe. Here on myLot specifically, we get folks from India, the UK, Australia, Canada, etc, all busting chops about how America is so crooked for not doing more to prevent gun violence, and latching onto those directly affected by tragedy with some take on hypothetical limited victims with their ideas. Most seem to carry the we're-better-than-you attitude, having no worries whatsoever about preaching to the rest of us and lamenting America as a supposedly gun-happy culture where something--ideally a ban--needs to be done immediately. Folks can't wait. Literally. There's no grace period for those who may be grieving. It's hear it play on the news, fire off a rant about how bad guns are and how guns are the problem. But can we get some of the lobby to ban pressure cookers to speak out, please? My stocks would suffer, but then we'd all be so safe and sound and inhabit a perfect world where murder death kills never happened and no one was ever embittered or insane enough to harm another. I'm too lazy to research for hard stats on my day off, but I'm assuming that there are many people seriously injured by these dangerous things every year!
5 responses

• Malaysia
25 Apr 13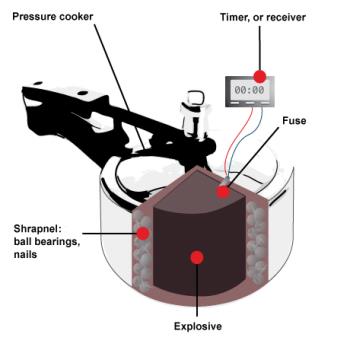 It take alot of research to put a pressure cooker to explode itself without fire heating the pressure cooker. I think the pressure cooker is used just to made the exlosion stronger witht the metals balls flying out contained inside. I guess a pressure cooker is bigger than a pipe bom. Pressure cooker can fit more metal balls? Even portable camping gas tanks can be rigged to explode too. Even the shoe sole , underwear can be used as terrorists boms.


• United States
25 Apr 13
My understanding is that the directions are on some radical Islam websites. You use the pressure cooker because if stopped over in the Middle East is is a very common item to have when traveling and will not draw concern from the police or military. When you fill it with combustible materials and have a spark to ignite it it will build up the pressure itself. At least one of the boys would have had the chemistry background to figure it out. Timothy McVeigh used Diesel fuel and fertilizer to make his bomb and look at what that did. There are lots of materials out there that you can buy that will cause an explosion if you know what you are doing and don't blow yourself up making it.


• United States
25 Apr 13
"no one was ever embittered or insane enough to harm another" Goodness, if that's what it takes, then I'm all for it! I'd like to live in a world like that. I say, let's ban all pressure cookers right now! Why wait for Congress (as if they'd ever get around to it, anyway.) Let's take it to the people!


• Indonesia
25 Apr 13
I don't see they will ban pressure cookers. I guess is because the main purpose is not for harming another. Like knife….I can't imagine we don't have knife to cook. How to cook something to eat. Moreover, how we can cut up something to make salad, for example. Even gas can be dangerous too, but yet again, we need it for cooking. Maybe opt for electric stove?

• United States
25 Apr 13
I guess we're to grow our fingernails really long and file them until sharp to cut through vegetables.

But, yeah, they're not banning pressure cookers. It's the people who use them for murderous purposes, not the pressure cookers themselves. Thanks for the response.

• United States
25 Apr 13
Forget about pressure cookers lets ban private cars. The government must consider them dangerous as you are required to register your car every year or so. To use a car you must apply to the state and take a test to get permission to drive. owning a car is an outdated concept because we have mass transit to get from place to place. Think of the lives we could save every year and the billions of dollars that would be saved and the reduced medical costs due to fewer accidents. Then think of the savings in highway construction and the stopping of environmental damage caused by cars. It surprises me that more people aren't concerned about the dangers of cars. We know how dangerous they are by all the laws that govern their use and how the car can turn people into killers and cause people to engage in dangerous behavior (road rage). It is time to stop talking and take firm action to ban the car and end its evil control over us.

• United States
24 Apr 13
There is already a ban of sorts rolling around on pressure cookers in Massachusetts. http://dedham.patch.com/articles/williams-sonoma-pulls-pressure-cookers-off-shelves-in-massachusetts-4f18ea7b Granted it was pulled by the company but I guess it still counts.