Her Little, Innocent, Amusing, Lovable Ways

Philippines
September 6, 2015 3:20am CST
As a mother, it would be a pleasure seeing your daughter or kid improving or showing some mannerisms, character, behavior/attitude amiably. Like my baby, she is one (1) year old and two (2) months now. I am so proud of her even of her young age, I can request her to get something like her shoes, towel, pacifier and anything else. When she is sleepy and her pacifier is nowhere to be found, we'll tell her to find it. She will stand and search for it. She could remember where did she left or put it when she does not want to use it. We will be amused by this simple, little gesture of her. Like this morning as well, she played the wallet of my auntie. My auntie's I.D was gone inside of it. Then my auntie, told her to find it. My little lady went to the kitchen then back to the living room. She sat down and she pointed something on the floor that is made of wood. As to suspicion that the I.D has fallen down to the soil since the house is elevated few inches from the ground. We all just laugh and said, you are a grown baby now, Brielle :) That is all folks hehe
8 responses

• United States
10 Sep 15
Those are the sweet old days when they are so cute.

• Philippines
11 Sep 15
@sharon6345
a prayer to every mom in the whole world, let us see as I'll do my part as her parent to guide her :)

• United States
11 Sep 15
@missjahn
That would be the nicest gift she could give to you. How sweet that would be.


• Delhi, India
7 Sep 15
Little kids like a one year old baby are always very cute and lovable

. What you have described about here seems very interesting. It would be a great delight to observe her small gestures. We wish if you could post a picture of your baby here.

• Philippines
11 Sep 15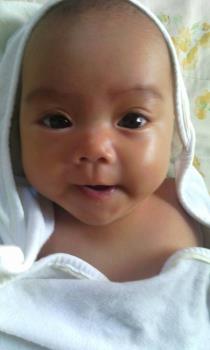 yes. it so delightful so see them growing and learning new tricks and show wittiness, it would be a stress remover for the parents who are tired in work or having a problem :) like me, even how tired I am or how problematic I am, it would be eased upon seeing my baby :)

• New York, New York
6 Sep 15
Ahhh, that is so cute and adorable. Keep taking many photos and videos of her now so that you will have these later to share with her when she is older.


• Philippines
6 Sep 15
uhmmm.. thanks
@howard96h
- I suggested this post to you even I am not sure that you are here actively - I am glad that you are doing good in mylot. About what you said, I have plenty of pictures of her, I am just thinking on how to preserve thus. I hope I can find a good way to keep it for years and forevermore for her to see when she grows older :) thanks

• Philippines
7 Sep 15
So , she is pointing at the floor because it was there . At this early you will know that she will grow to be a good child because at his early age she is not a brat at all.


• New Delhi, India
6 Sep 15
Thanks for this great post,
@missjahn
.Children,even as they grow up,keep learning things and then one day surprise us.It's really a divine pleasure to watch them grow up and learn things we had never expected them to.

• Bucharest, Romania
6 Sep 15
In other words your child is pretty smart. Cool.

• Philippines
6 Sep 15