The trouble with perfectionists…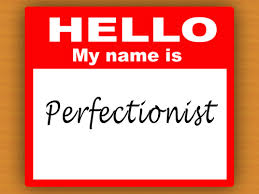 Canada
April 6, 2016 2:44pm CST
I'm a bit of a perfectionist. Although I wouldn't say that I am right all the time, it does bother me when I see mistakes not only from other people, but mostly the mistakes that I make. It's also a bit difficult when you've got your mind set in a certain way, and then life throws curveballs all the time. And then I'd end up worrying about it, or making plans on how to correct it, or how to resolve these unplanned instances. That's why I envy people who could just free-flow, and live by the seat of their pants. I know that this is LIFE, and we're supposed to learn from it and adapt. I still have trouble though, and I would consider myself a work-in-progress. Do you know any perfectionists? The trouble with perfectionists is that nothing ever is good enough.
5 responses


• Germany
6 Apr 16
@bounce58
I'm a teacher. When we were colleagues I was already an old hand and she still young. I tried to tell her to take things easy but stopped when I realised that she considered me not sincere and respectable and certainly not an example she wanted to follow. It's impossible to be perfect if your success depends on other people, in our case the pupils. You can have prepared the best lesson of the century, but if the pupils are tired after a lesson of PE or if it's blazing hot outside or if the lesson is interrupted by a fire alarm, your lesson will flop. You have to learn to live with such situations. Nobody will love you less if not all goes to plan. Nobody will love you if everything does go to plan. Most people don't even notice your plan! :-) If people/pupils love you or not depends on other factors. This does not mean that you should do your job slovenly, of course.

• Canada
6 Apr 16
@MALUSE
That's another faulty trait of being a perfectionist -- it's hard to accept someone/anyone as worthy of receiving advice from. I guess that's one lesson that I should also learn. Not to base my success against other people. And just to learn and accept what I'm capable of (still work-in-progress). Thanks!



• United States
6 Apr 16
I guess I'm a bit of a perfectionist even though I never would have said so until my children brought it to my attention. One day they told me that my life would be so much easier if I accepted help and didn't have to do everything myself.

• Canada
6 Apr 16
This made me laugh because I too believe that my life would be much easier if I just accepted help and delegate a lot of stuff that I do. Instead of doing it myself (and then complaining about it -- on why I have too much work, and how others seem to be of no help).


• Germany
7 Apr 16
@bounce58
A colleague of mine admired my capability of delegating work. I told him that there wasn't much to admire. Everything someone else does, I don't have to do myself. So laziness is the driving force behind delegating tasks. He told me that laziness can be a virtue. It's often the driving force behind technical inventions, too. What a machine can do, I don't have to do myself. A convincing argument, don't you think?

• Canada
7 Apr 16
@MALUSE
I agree with the argument! I came from a manufacturing background. A lot of the process improvement initiatives being done could be attributed to laziness. Of course, it could be framed as 'streamlining', or increased productivity, etc., but it could actually also be viewed as just prepping for lazy operators. So, we acquired robotic arms, etc.

• United States
7 Apr 16
My son is a perfectionist. Because of it he has very poor self esteem. If he doesn't get 100 on every test he gets so upset with himself and says he is probably the dumbest kid in the whole grade. He really is one of the smartest too. I worry about how much he puts himself down about it. He is in therapy at school once or twice a week so I hope that it will help him learn to see things a little different to accept things and himself do not need to be perfect.

• Philippines
7 Apr 16
I understand you. I always look for something better. There are times that it's difficult to deal with people who can't understand that I want it the way I want it. Because they don't look at things as how I look at it.

• Philippines
6 Apr 16
I've met some but I am a free spirit so we normally clashed.