Exercise equipment from the Dollar Store(?)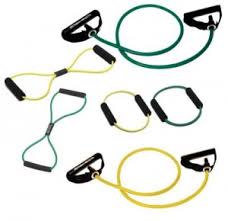 Canada
June 13, 2016 4:23pm CST
I went to a Dollar Store today to get a birthday card – my son is attending one this afternoon. As I browsed along the store, I saw some exercise bands being sold in the store. These are the elastic types which you could use as resistance training for arms, leg, etc. I was a bit confused when I saw it because normally these kind of exercise equipment are sold at a more expensive price at other stores. Even at Wal-Mart, they are a bit expensive! My confusion came from my wonder on how these "exercise-equipment" got to the Dollar Store. Are they of inferior quality, and that could break apart, and therefore be unsafe? Or have they made it really cheap to motivate people to exercise? Or maybe these are the actual prices for these things, and they just sell it expensive in other stores because they count on people thinking they would get more out of exercising using more expensive equipment, than cheap ones. What do you think?
8 responses

• United States
13 Jun 16
Or maybe they didn't sell well at the other stores so it went to Dollar Tree?

• United States
15 Jun 16
@bounce58
I think so too! Because they sometimes have brand names in the Dollar store too along with the 99 cents. For other products I'd check expiration prior to purchasing though!

• Serbia
13 Jun 16
I don't think that them could break apart and that are unsafe and that they do that to motivate people to exercise too. I think that it is their actual price, that is most logical to me.

• United States
14 Jun 16
I worked in a medical equipment store. We had exercise bands that had to be tossed out because the rubber rotted. It could cause injury if it were to break when you are exercising with it.

• United States
13 Jun 16
Dollar Stores buy up last season's items, by the truckload. They negotiate a very good price because there are so many stores. Even on this year's items. They are good at making bargains to pass along to you.

• Holiday, Florida
13 Jun 16
I would be a bit concerned about the safety. depends on if you can tell by looking at the making of it. you never know. I have gotten great things that lasted from there but other things that just fell apart. not even worth the dollar

• Canada
13 Jun 16
I've bought some gardening tools there that would just bend when you stuck it in the dirt with a little bit of force. So, I don't have a high regard on the quality of things bought from the dollar store. That's why I would also think that safety would be a concern. Wouldn't want the elastic slapping on my face!



• Grand Junction, Colorado
13 Jun 16
You could check online for the brand and see if you can read reviews, that would be my best advise. If you bought them already, I would check thoroughly to see if they have any week spots, it could be highly dangerous if one of those broke when you had it extended out.

• Canada
13 Jun 16
If I had to hazard a guess, I would suspect the quality wouldn't be very good. That being said I've been surprised by some of the stuff I've bought there. I have some gardening tools that have definitely been worth taking the chance on.