How to cope with sore legs after doing a trek?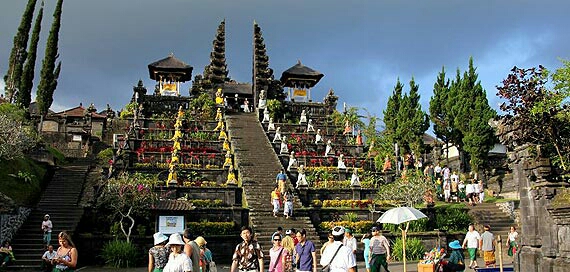 Denpasar, Indonesia
November 12, 2016 10:05pm CST
This is the picture of Lempuyang sublime temple, "the temple of 1000 steps". I visit this temple with my family today to pray. It is not easy to reach the temple as it is located at the hilltop that we have to climb up 1700 steps for it in 2 hours. I'm so exhausted, and I feel my legs so hurt.

. However I won't regret this 'trek' as this temple is really nice and has many values of Hinduism. We will return home this afternoon, and I will do something to cope with my sore legs... But I wonder how to do so...
5 responses

• Philippines
13 Nov 16
i'm not used to stairs, so i would pause a lot as i make my way up. once i'm up, i will also rest for a long time before going down again. for the meantime, maybe you can sit with your legs on a stool. then at home, soak in a warm tub or soak your feet in warm water. i think adding epsom salt helps.

• Philippines
13 Nov 16
@Ayuriny
if there's a pharmacy nearby, maybe buying a painkiller will help if you're still sightseeing. is your niece and brother with you?

• Denpasar, Indonesia
13 Nov 16
@hereandthere
Yes,...they are with me. Alright, I'll ask the driver to stop at a pharmacy. My legs feel hurt and rather hot now...

• Canada
13 Nov 16
Wow that is quite the accomplishment to walk so many steps. I hope you have a good rest when you get home.

• Canada
13 Nov 16


• Indore, India
13 Nov 16
The temple looks beautiful. I too frequnetly visit temples that are atop a hill and have countless steps. I really enjoy coming down as it is easier that climbing up. When my legs are sore, I lie down on my back with my feet propped up against the wall. It causes the lactic acid formed in the muscle to disappear, reducing the pain. But a good rest is much more necessary.