Do you think that I'm crazy....

Greece
9 responses


• Greece
4 Dec 06
I mean I dream this car and all the rest are like.... dust, let's say, like durt!


• Greece
4 Dec 06
I really don't share your enthusiasm for the BMW. Thank you for supporting me though


• Greece
26 Nov 06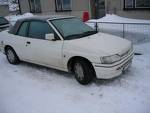 I hadn't succeeded inposting the picture. I adore all Ford Escort Cabrios. There are old of course. The model was out in circulation till 1998. But, here in Greece atleast, these cars are sold (as used) more than 6000 euro. I mean it is a lot of money if you think that the month's salary is 500 euro and most people have a family to take care after.

• Australia
9 Dec 06
remaster, may your wish come true! Glad to see you want to start driving again!

• Greece
10 Dec 06
It's weird, you know. I'm sure that if I get my dream car then I will drive. My husband used to have this car. And I feel sure about that car. I know that car, can you understand what I mean?

• Australia
10 Dec 06
Yes I can understand what you mean, and it sounds as though this is not going to go away until you get it! Go for it and enjoy!

• Greece
18 Dec 06
Thank you dear! Merry Christmas!

• United States
7 Dec 06
No, you are not crazy. You have a dream and you want it. That's great. Go for it.

• Greece
10 Dec 06
Thanks for your support. I still am in fight with my family you know!

• United States
10 Dec 06
Don't fight, just talk and try to work it out. Hopefully you will come to a compremise. Good luck.

• Greece
18 Dec 06
I hope I will make it. It's the first thing that I'm going to do after I get a new job.

• Greece
16 Jan 07
ok! thanks! I'm glad you say something different. even in one word answer


• Greece
18 Dec 06
Well, I will just when I start mynew job.

• Janesville, Wisconsin
3 Jan 07
No, I do not think you are crazy if you set a goal and work hard towards it you may someday have that car. It is always good to work extra hard to hopefully achieve your goal. I am working to achieve my goal of earning enough money to pay for transportation to and from town.. To a part time job, if I can get hired... - DNatureofDTrain

• Greece
16 Jan 07
I hope you will make it one day very soon. I wish you all the best.

• Greece
13 Feb 07
What is the life without dreams?How many times we see some incredible dreams come true?Before some years i;ll say that some dreams never can be true.But happen to me(don't ask what it was the dream)Just happen something none can believe this dream it will turn the be reality.I still can't believe it some times.