Work or College?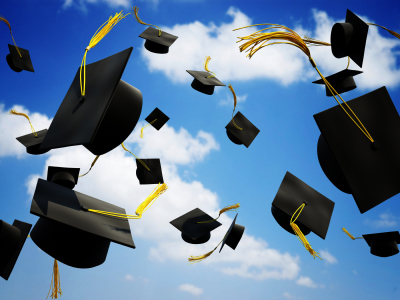 South Africa
May 2, 2017 7:00am CST
I've been discussing this with a lot of people lately and everyone has their own opinion about whether you should have a college degree or just a High School certificate. My opinion is one I formed in perspective with my own life as example. I only have a High School certificate and I began working as a Sales Assistant and I basically worked my way up until I became manager. I have to admit it was hard work and it meant I would have to be loyal and work at the same place for 3 years. Some of my friends are still studying to get their degrees and still lives in dorms or at their parents. I'm not trying to brag or that, I just want to show that you can still have a steady life even without a college degree and sometimes even get a head start in life. What is your opinion on this subject? Is it necessary to get a college degree or not?
5 responses

• United States
4 May 17
Both are important. The key for both of them is hard work and dedication. It mostly depends on the person though. Some people have the chances and good opportunities without ever going to college and some don't have any other options but going to college or having to go to work after high school. I am currently in college and it was my only option. In my town if I didn't get some kind of degree the only jobs I would be left with is working in fast food or places like Walmart or dollar general, but with my degree a whole lot of things open up and I can work for a lot of nonprofit organizations or even start my own business someday and do a job I like doing and enjoy doing or working somewhere that will pay me more than minimum wage and I'll actually be able to live on my own. It all just depends on the person, what resources they have available, the connections they have, and how determined they are, and how hard they are willing to work for what they want. With either choice, you can live a good stable life it is just easier for some than it is for others. My boyfriend has nothing but a high school diploma and some EMT classes done but he has a good paying job with benefits and I'm going to college, getting two degrees, and will still have good opportunities and contacts when I graduate that will also land me a good paying job.

• South Africa
5 May 17
@CaseyRoss9966
I didn't know someone who got me the job. I was just lucky enough. The guy said that he would take a chance on me since I don't have any experience. He learned me everything and by chance I was good enough and he kept me ever since. I must agree that for more practical jobs such as maintenance and so on, you will be better of with a degree.

• United States
4 May 17
@bacon147
He got lucky with his job and only got it because he knew someone though so it wasn't really because he had the education for it or the experience for it. He is trying to get a maintenance job through the company he works for but they kept turning him down for it and picking people who have an education and experience for the job. I told him if he just went back to our community college and got certified in some skills or a trade he would get up his chances of getting the job. He has now applied for the spot 4 times now and has another interview soon for it again and he just keeps hoping to get it instead of trying to better his chances of getting it by getting certified or learning a skill that would help with it. Just like Siduri said it isn't necessary but having that degree or certificate will open the door for more and better opportunities and chances of better pay and benefits.


• India
2 May 17
I think it depends upon a country you live in... there are many countries where a bachelor degree is must to get a job... so, we have to complete our college degree first and then we're eligible to work

• India
5 May 17
@bacon147
well.. in India you have to complete your bachelor's degree first to get a job.. and if you want a good job offering a lot money and benefits.. then it's must to complete your post graduation.. it's a lot of competition here..

• United Kingdom
2 May 17
For certain professions, you have to have a degree so then it's a must. Otherwise, it depends on what you plan to do. A degree might give you more options in the future, or the chance to go further in a career where the 'higher ups' require such a qualification but many opportunities arise for those who are loyal and hard-working. From a personal perspective, neither of those strategies has worked for me! I am loyal and hard-working, and I have a degree (and various other qualifications) but still nowhere near where I want to be!

• South Africa
2 May 17
Yes, exactly to what I was referring as well. My friends who does have a degree struggle to find a job in the profession they want to go in and the people still studying also doesn't have the complete certainty they'll get their dream job. I wish all the best for them but in today's world, it's really hard.

• United States
2 May 17
A college degree is not necessary, but it opens many more opportunities for you, particularly later in life, unless you learn a trade such as carpentry. Even then, it's a good idea to look beyond physical work for when you get older. Skilled trades are necessary and honorable work—and gods bless those who work them—but they can also take a toll on the body. I didn't finish my degree because I ran out of money. My parents weren't against helping me, but they weren't made of money, plus there were younger kids at home. I don't know how many times I've thumbed through job applications only to put them in the "never mind" pile—not because I couldn't do the work but because they required a bachelor's degree.

• South Africa
2 May 17
Yeah I see what you mean. Sometimes you can study through your job as well which I will probably be doing later on to go even further. I think it also has a lot to do with opportunities. If you get an opportunity to study or get a good job, then take it and make it your own.

• United States
2 May 17
@bacon147
Yes. I always worked when I was in school. For a while—and this is something I could only do when I was in my 20s—I worked overnight and took a few classes during the day. I didn't have a car and slept pretty much when I could. I did that for about a year. It was nuts.

• United States
7 May 17
While it definitely helps when trying to get jobs, I think it depends on each person and what they want to do in life.