Bonnet Carre Spillway Opens for 2nd Time This Year Making HIstory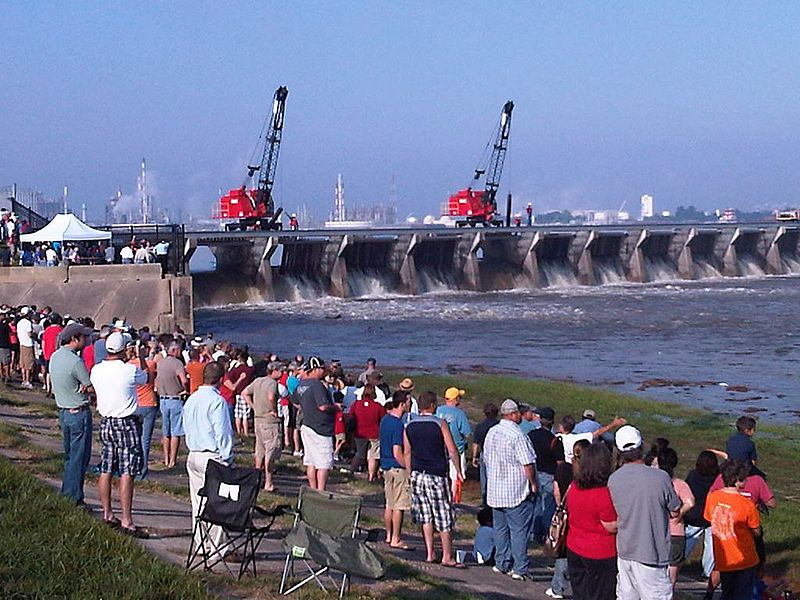 United States
May 13, 2019 1:21am CST
The Bonnet Carre Spillway was opened on Friday, May 11, 2019, by the Army Corps of Engineers for the second time this year making history. The Spillway has never been opened twice in one year before, only on consecutive years. Due to all the rain received in Louisiana for the past few weeks, the Mississippi Rivers was at or near flood stage at multiple points along the river. The decision was made to open the Spillway again to prevent flooding along the Mississippi River. When the gates are opened for the Bonnet Care Spillway the water from the Mississippi River flows through the gates into Lake Ponchartrain. The gates are opened one by one and it is quite a site to witness. Photo: Bonnet Carre Spillway, Wikimedia Commons, U.S. Army Corps of Engineers
6 responses

• Green Bay, Wisconsin
13 May
I've noticed the Mississippi River is in flood stage along most of the river for over a month now. It's good there's a way to alleviate it.


• Green Bay, Wisconsin
14 May
@kareng
We've had flooding for a couple of months now. There was a report of increased flooding in a town near Green Bay that the flood waters have risen again. They're not expecting the river to go below flood stage before Friday. That will only happen if it doesn't rain anymore before then. However, today is the only day this week now that it won't rain. The rest of the week is calling for rain, but I don't know how bad it will be. I also saw on the forecast that the Mississippi around Louisiana is flooded.

• Green Bay, Wisconsin
16 May
@kareng
I hope it does come down soon.



• United States
13 May
Opening the Spillway used to only happen once in a blue moon...years and years apart. Now it opens just about every year; this year being an exception with the second opening of the year for the first time in history. So what used to be a once or twice in your life happening is now a common event.


• United States
13 May
It's too bad. I don't see your picture. :-(

• United States
13 May
@kareng
Wow! Cool. At least that helps prevent the flooding.

• United States
13 May
@LindaOHio
Yes, it also pisses off the fisherman and shrimpers and other seafood captains because this destroys the balance of the ecosystem in Lake Ponchartrain. But you have to do something and until a better way is figured out, it will continue to happen.

• United States
14 May
cool. Hopefully it will help with flooding.

• Canada
13 May
We have similar stories about flooding up here... sad state our countries are coming to!!