Butterfly Bush aka Summer Lilac aka Buddleia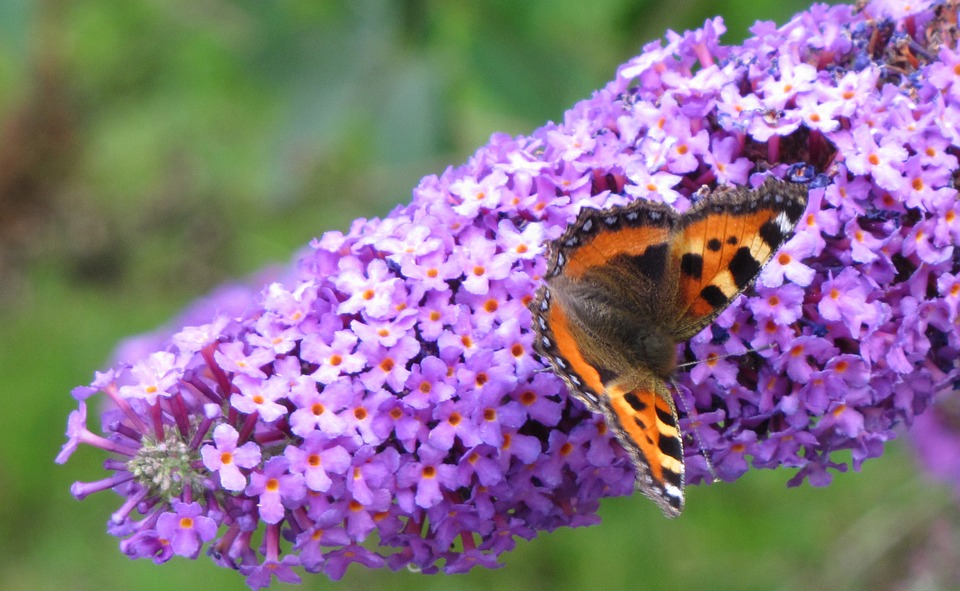 Germany
May 16, 2019 11:57am CST
We've got a summer lilac, aka Buddleia (also spelled Buddleja), aka Butterfly Bush on our garden. Three terms for rather a modest and self-sufficient plant. Summer lilac because its narrow branches support lilac-like panicles of blossoms, 10 to 50 cm long, and because the most widespread colours are light purple and white (but there are also blue and pink ones). Buddleia after the seventeenth century amateur botanist Adam Buddle from Essex who was honoured with the name posthumously in 1774. Butterfly Bush is self-explanatory. It's a magnet for butterflies which are attracted by its fragrance and come searching for nectar. The fragrance which is strongest around noon is also pleasant for human noses. So it's a good idea to plant the bush near a terrace from which you can smell it and watch the butterflies. A friend told me that dark butterflies were attracted by bushes with white panicles and white butterflies by the ones with dark panicles. From what I've noticed this is not true. We've got a bush with violet panicles and butterflies of all colours come. If they come at all! We had so looked forward to swarms of butterflies coming to our garden, but when the bush was in bloom the first time, hardly any came. Sadly, butterflies are endangered now because they can find less food plants in our towns. They like weeds. Yet, people don't want weeds in their gardens and parks. The use of herbicides and insecticides are a further reason for the diminishing butterfly population as is Global Warming in general because it leads to a degeneration of plants including food plants for butterflies. We got our bush from a garden centre and planted it in the garden where there was space for it. We didn't inform ourselves about the soil it needs and whether it likes sunshine or not. We never do and we're nearly always lucky. The Butterfly Bush is definitely a plant after our heart. According to a gardener, "It's easy to grow and hard to kill." Rich soil is not necessary. We do nothing for the bush. We don't give it any manure or mulch. It has sunshine in the morning and shade in the afternoon. This seems just the right thing for it. Some years ago, when the bush had already reached a considerable height, something happened that first nearly broke our 'green' hearts but then convinced us that the Butterfly Bush is a tough guy indeed. The family living with us in our house cleared their attic and had the bright idea to throw a small wardrobe, which they didn't need any more, out of a window on the second floor instead of carrying it down the staircase. It landed flat-bang on the Butterfly Bush! This was not the pruning it needed. For the rest of the season it looked dead. We left it as it was for sheer laziness of pulling it out. The following year showed that it was still alive. It started to grow anew, from scratch so-to-speak. Now it's so high, more than three 3m, that we have to prune it properly. We'll do it in late autumn. This is the only thing one really has to do, even the laziest gardener can't avoid it. The branches are rather thin and the slightest breeze waves them around. It doesn't look good. The bush should be 'bushier', the leaves and panicles should start lower down.
10 responses

• United States
16 May
That butterfly bush really did withstand some very rough treatment. We had a butterfly bush in the yard of our last house, but I have not planted one here, yet.

• United Kingdom
16 May
I do like these there are not many about here at the moment though!




• United Kingdom
16 May
They really are tough plants. In some places they literally grow like weeds - there are patches of them all along the railway lines (the seeds get 'swooshed' along the side of the tracks by the trains) and they grow in all sorts of odd places - I've seen one 3 or 4 feet tall growing out of the side of a chimney on a house roof! It's funny you mention this though - I've been thinking the same thing because we have several of these in our garden and yet rarely see a butterfly visiting. In fact this spring I have seen a few butterflies around, which is promising, but apparently the insect population has declined by something ridiculous like 90% due to the ubiquitous use of pesticides. We really have got to get a grip!

•
17 May
I hate these plants. We have two in the back garden, neither of which we planted. They just appeared. Okay, hate is maybe a tad strong. I like their prettiness and usefulness. I hate their prolific-ness. I thought they were supposed to be cut back in the spring, rather than the autumn. Not that it matters ... I cut mine back whenever it's frustrating me!

• United States
17 May
I have heard of these, but never have seen one. We don't have a lot of butterflies and I would hope that we would be able to attract them with this bush.