Family Life People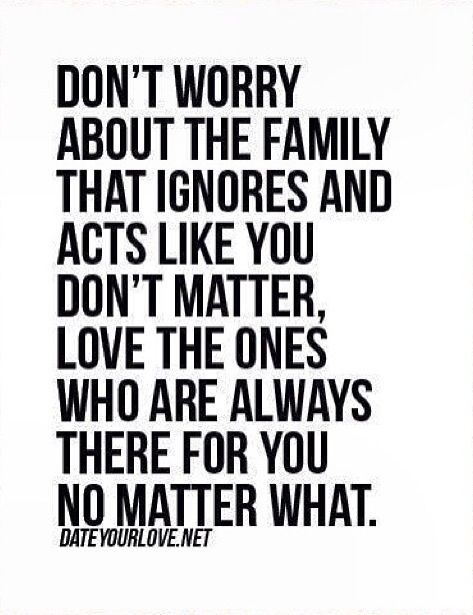 United States
June 11, 2019 4:35am CST
The only person who in my immediate family who loves me is my father. my mother hates me because i look like my father i think this is wrong but its the truth. I get love and support from people who our outside my family then the people who are in it I am so glad that I have the love and support from out side people because if i did not i think i would be either dead on in a mental instituation but thank God i am not in either of those situations right now because if that where the case I would not be able to sit here and type to you.
5 responses

• Malta
11 Jun
Sorry that your mother is not friends with you, but maybe you should try to see why she doesn't like you. I am happy that you have other people that love and support you. True friends are like a kind of family too

.

• United States
12 Jun
i know why my mom hates me because I look like my father I am my father and my brother is her child so she has a great realationship with him and I have a great relationship with my dad at least i know that 1 or my parents loves and cares for me no matter what.

• Malta
12 Jun
@VoiceofTruth7
I am happy that you and your father have a good relationship, parents should be fair to all their children and love all of them the same.

• Bangalore, India
11 Jun
@VoiceofTruth7
I can see a lot of people speak their hearts out of family tough situation. Actually , you can find something favoring from your friend, you may be delighted in outing somewhere with your childhood friends, you may like your colleagues for something else. My point is different moments and emotions could be felt with distinct sort of people . I feel there should be an emotion that goes well only with your family , maybe your mother.

• United States
12 Jun
My mom is a beast it will never be well with us. I am only put on eartht o be used and abused by her is all.

• Bangalore, India
12 Jun
@VoiceofTruth7
ok, well you mentioned you look more like your father, I am not sure how can this be a reason to hate the child?? Does your mother behave the same with other members of your family or if it is only you ??


• United States
12 Jun
Talking to my mom is like having a conversation with a pitt bull so I will pass on that. I do not wanna die or have my head chewed off.

• Philippines
12 Jun
@VoiceofTruth7
I had seen some mothers who are like this. I hope she will change into a new leaf.

• India
11 Jun
Love and support are two major things that make life better and easy...