Feels Like Temperature of 115 Degrees F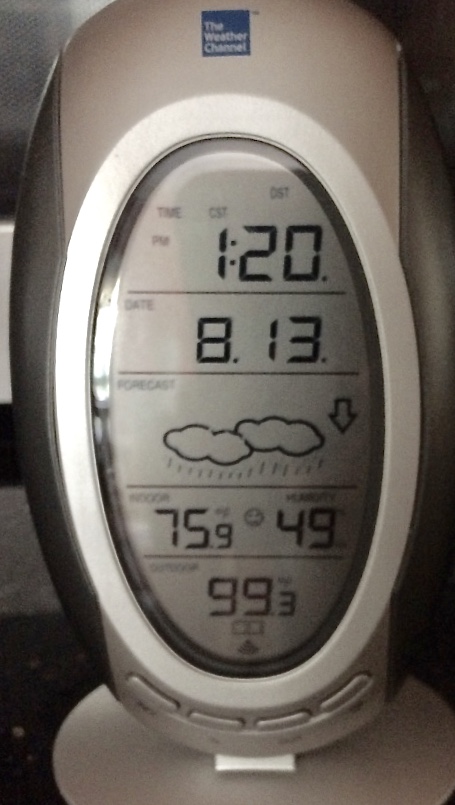 United States
August 13, 2019 1:16pm CST
I wrote about how to calculate the feels like temperature awhile back. On these hot days, when you combine the hot temperature with the humidity you get a feels like number. That is the actual temperate as far as I am concerned. Right now it is 99.3 degrees F, the humid is 49%, so the feels like number is 115 degrees. If it feels like it, then it is 115 degrees, in my opinion. Went out to transplant a few plants and came in after about an hour. Had to get a cold shower I was so hot. This weather is so easy to get a heat stroke. I hope for those who are also having this crazy hot weather, you will be safe. Drink plenty of water and come in where it is cool often. Photo is mine. Crazy numbers.
9 responses

• Anniston, Alabama
13 Aug
I remember when I ran the roofing company, if there was more than a couple days like today, they would work at night.

• East Tawas, Michigan
13 Aug
My son worked one summer putting a roof on an apartment complex. He had blood running out of the pores on his back,from a terrible sunburn!

• United States
13 Aug
No one should be doing anything in that kind of heat. It's too dangerous. I feel sorry for the people that work outdoors.

• United States
13 Aug
sure don't envy ya that humidity, hon. yepperz, gotta take great care with the heat. lots 'f fluids 'n a cooler place to rest. i'm fortunate to've my lil sanctuary, 'tis usually 'bout 10-20 degrees cooler there. gives me a place to dry off a bit 'fore i come'n to shower. peelin' those sweat laden clothes off 'tis no fun, lol.

• United States
13 Aug
We finally have rain now and thunderstorms. Yes, my rain dance paid off finally! You are luck you have a sanctuary. I am feeling better but it is not a good feeling to be out in that heat too long. Have a good evening. I am enjoying the sound of rain right now.

• United States
14 Aug
@CarolDM
so glad 't did! sure wish i could'a snuck o'er 'n listened to such with ya, hon. yes ma'am, most fortunate to've built such years 'go.

• Holiday, Florida
13 Aug
I thought I would die when Saturday our air conditioner quit and wasn't fixed till Monday

talk about hot! I hope to never have that happen again. Where do you live? I am in Florida and my bill is over 400 again




• Marion, Ohio
13 Aug
Not near that here. But we have had rain off and on all day too.

• Los Angeles, California
13 Aug
Going to fry up some eggs on the sidewalk?

• Peoria, Arizona
13 Aug
As one that has to experience 115 degree temperature every year,(thankfully we have only reached that a couple of times this year), it feels like how you just open up an oven and the hot air puffs at you and then you just sit there, you don't do anything, you don't take the food out, you just deal with the hot air constantly on you. But I do have to say, having a high humidity, also sucks. None of it is fun. At least with high humidity there is a better chance of rain and then it is cooled off for a few days, or at least there is some cloud coverage rather than the sun baking you haha