Upcycled chest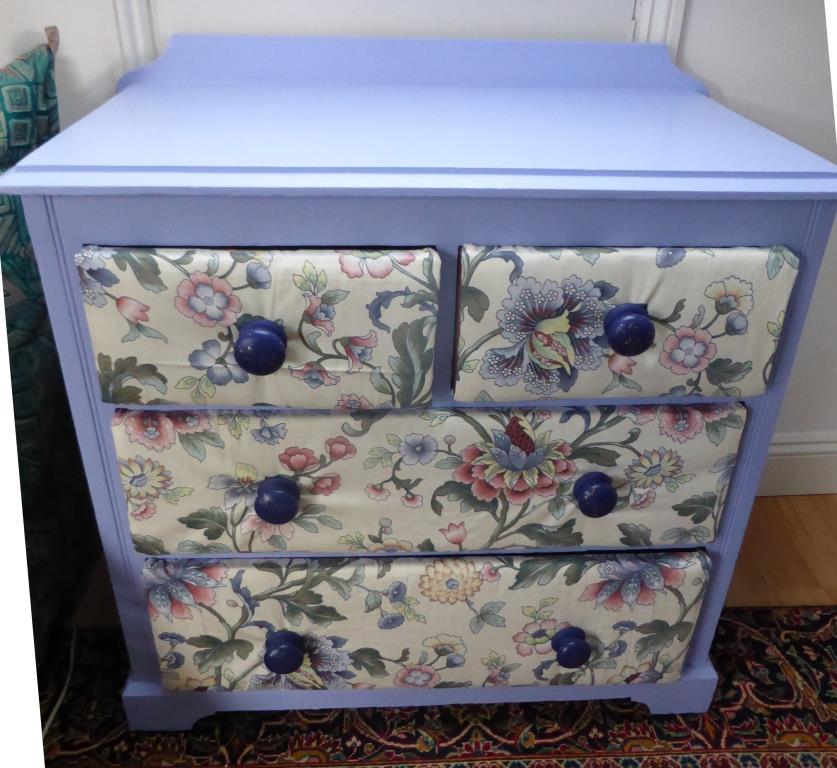 United Kingdom
August 14, 2019 3:21am CST
A few months ago we went to stay with friends, and in the room they gave us I noticed a chest of drawers with fabric-covered drawer fronts. I really admired it and found that, as I suspected, it had been decorated by our hostess, who is French and has some interesting and unusual design ideas. A while afterwards I was looking for something to furnish our attic room and remembered I had an old chest of drawers lurking in the garage, so I decided to try the same technique. It wasn't quite as successful – the shape of the drawer fronts (which fit flush into the frame, rather than having a 'lip' at the front) – meant that adding the fabric covering made the drawers too big to actually close all the way as they should, but I was still quite pleased with the overall effect. It was decorated with some second-hand paint from the paint recycling place we used to have nearby, and a curtain my mother had, which had obviously been one of those samples they hang up in curtain shops, so this 'upcycling' project had the added benefit of being free! All rights reserved. © Text and image copyright Fleur 2019.
4 responses

• Bunbury, Australia
14 Aug
I think that looks really nice and is certainly something very few other people would have. Well done. I love it.

• Bunbury, Australia
21h
@Fleura
I think it looks great - and quite unique. You don't see padded fronts very often.

• China
14 Aug
Needless to say,the chest of drawers decorated with the fabric is a far cry from the original.

• China
15 Aug
@Fleura
It was "left in the cold" before,but takes on an entirely new aspect now.

• Japan
14 Aug
That's cool! I used to do that with Japanese paper called washi. Sometimes the drawers would get stuck because even the width of the paper was too much.