Is it that laughable?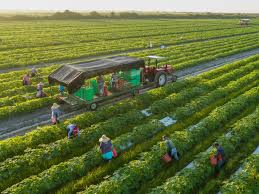 Philippines
August 14, 2019 5:01am CST
I mean why do people laugh at me when I say, I wanted to work in the farm? Is it because they look down on farm jobs and farm workers? From engineering to agriculture, is it really that laughable? I dont see anything wrong with the change in profession. Photo credited to National Geographic
8 responses

• Philippines
14 Aug
Little they've realized that the farmers are keeping us alive... My father is a farmer and I am very proud of him... When I am done working, I am considering to be a farmer for the rest of my life...

• Philippines
16 Aug
@simplfred
It's good to know that a lot of people here are considering farming as a noble job. My father is a farmer too and like you I'm proud of him. I guess why some Filipinos think that way is because of the small revenue the farmers get from their produce.

• Philippines
23h



• Philippines
16 Aug
Im so glad you like farming too. Yeah farmers feed us and without them people will starve. Office work is more stressful than farming




• Philippines
16 Aug
I like that too. Managing my own farm with my house in it. I breath fresh air everyday and eat fresh produce from the farm. Life for me is better that way.


• Philippines
14 Aug
Yeah. In reality I wanted to incorporate what i learned in engineering to farming. In that way, the farm that i really wanted to own will be easier to manage.

• Osijek, Croatia (Hrvatska)
14 Aug
@renicemae
Some people think you still cows muse by hand or work manualy on land. They don't how modern tractors and Machines are.


• Philippines
16 Aug
Well, yeah that sounds better

I'll use that. Thank you for correcting me


• India
14 Aug
Work is work and farming is most honoured work so its a good work and i feel happy to meet person who work in farm. People who has ego and over confidence has laugh but they don't know they eat things in who which grown in farm.

• Philippines
16 Aug
We cant stop people from thinking that way but I hope for them to realize how important farming is even if our world is modern and technologically inclined.

• United Kingdom
14 Aug
There is nothing wrong with wanting to work on a farm. It's hard work which is rewarding in so many ways. My partner used to help out on his grandparents' farm. There is a tale about comparing farm work to being in the army. I don't remember it exactly but it says things like being able to sleep in every day - 6:30am in the army whereas a farmer might be up at 4am - and other things. I'm not sure why anyone would laugh at or look down on farm workers. It's just as legitimate as many and more so than plenty.

• Philippines
14 Aug
Yes. I guess some people are just too proud of themselves. I am not shy that farming is my passion. Well, honestly, I just recently discovered that to myself.

At last, I now know what I want.

• Philippines
15 Aug
People here in our country tend to degrade farmers; but now the trend is into farming when even CEO's go back to farming on weekends or when they retire. It is a noble job to be a farmer; you are feeding the people.

• Philippines
16 Aug
Yeah i think the same too. That's one problem our country is facing. Maybe because farming here is very old style unlike farming in foreign countries.