Gratitude Challenge Day #1089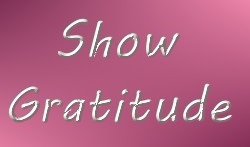 Baltimore, Maryland
September 11, 2019 12:59am CST
Hey there, everyone. I'm tired, so I'm just gonna get to the Gratitude Challenge because I want to go to bed. 1. My hair is brown with blonde fronts again. Once the brown grows out, it'll be my natural brown again. Overall, I'm happy with it. 2. I ordered Cherry Crush Singles To Go packets from Amazon. It's one of my favorite sodas, but I haven't been able to find it in years (nor have I seen the packets in stores). I just mix it with water like my other drink mixes. Oh, and I'm also stocked up on my drink mixes. 3. Donnie Wahlberg handed out TWUGs (Twitter hugs) last week, and I was able to get one with several others (it was a group TWUG lol). I always appreciate it when he takes the time to interact.... he really doesn't have to do that, but he does it anyways. :) 4. Stone Cold Steve Austin was on WWE Raw, and The Undertaker was on WWE Smackdown, as both shows were held at Madison Square Garden this week. I grew up watching them, and it's always fun when they show up. 5. I'm finished with my work for the night. I kind of wanted to do more than I did, but I need to get some sleep, not stay up until 3am. 6. Finally, I'm grateful for my family and friends, and I love them to pieces. I'm gonna get some sleep, but I hope you're all doing well. Goodnight, or good morning, and take care. :) Photo Credit: I made this graphic using PhotoImpact 6.
4 responses

• Green Bay, Wisconsin
11 Sep
Aww, that's sweet you got a TWUG from Donnie. It sounds like you had a wonderful week and I hope you got a good night's sleep.


• Rupert, Idaho
11 Sep
6 great things to be grateful for :) I saw your hair since we are friends on FB, looks very nice! Mmm...cherry crush flavoring? I need to find that!

• Indonesia
11 Sep
I am grateful for I have. If I have less, God will sooner or late give me more.