Visiting Civil War National Battlefields

Los Angeles, California
October 8, 2019 7:50am CST
Antietam National Battlefield, Maryland The Battle of Antietam was the deadliest single day of fighting in Civil War history. On September 17, 1862, a combined 100,000 Union and Confederate troops clashed for 12 hours resulting in 23,000 deaths and wounded. Antietam was the first time the south went on the offensive into northern territory as General Robert E. Lee and the Confederate Army crossed the Potomac on a drive to Washington, DC. Union forces were fortunate in stopping them. The battle was considered a draw as the south never invaded again and the north learned a bloody lesson. Antietam is a typical national battlefield to visit. There is a video in the visitors center and displays of artifacts like weapons, uniforms, canon shot and bits and pieces from the fallen. Then you take a circuitous drive through farmlands to see monuments and significant battle points of interest. Manassas National Battlefield Park, Virginia Manassas (called Bull Run by the south after a local creek) was the site of two battles. The first Manassas was also the Civil War's first major battle in 1861. Union troops marched on the Confederate capitol of Richmond with the idea of ending the war before it really began. They were smashed and fled in retreat from the ferocity of Confederate troops. It was a sobering lesson for Abraham Lincoln and the north. The south was not to be taken lightly with their superior leadership and fighting men. In 1862, the north foolishly tried to take Richmond again and sent in the mighty Army of the Potomac feeling confident of victory. In fact, the north was in desperate need of a "win." They were greeted by Lee and General Thomas "Stonewall" Jackson led forces and suffered an even more decisive defeat. The Yankees ran away again. Visitors to the park do the usual thing. Watch a video and view artifacts in the visitors center. The first battle area requires walking a mile hiking trail. A highlight is the Stonewall Jackson monument, a life size statue of the man astride his horse. Jackson received his nickname "Stonewall" for how he held southern lines. The second battle area is an 18 mile drive. Manassas/Bull Run are among the best known and significant battles of the Civil War.

Historic site of the first battle of the Civil War on July 21, 1861 in Virginia.
9 responses


• United States
8 Oct
We have several here in the South. They do re-enactments every year. Port Hudson, LA, Audubon Historic Area (love the old house there and they have a great history day with tours), Vicksburg, MS. It's always interesting to visit these historical sites. Thanks for sharing!

• Los Angeles, California
8 Oct
I have been to Vicksburg.

• United States
13 Oct
@JohnRoberts
What were you thoughts? I've never done the "tourist" thing there, just driven through on the way to Arkansas.

• Los Angeles, California
13 Oct


• United States
8 Oct
I used to live within a mile or two of the Manassas National Battlefield Park. I used to jog there. Anyway, Antietam puts on a display with lanterns(actually there is another term for what is used but I am blanking on it now.) I think in the first week of December with a tribute to every soldier killed. I have always wanted to go. Someone I used to work with said it is an amazing site. I remember the word now,,it is luminaries.

• Toccoa, Georgia
10 Oct
That would be interesting to visit. My husband loves Civil War History. Many years ago we visited Gettysburg. Have you ever visited there?

• Los Angeles, California
10 Oct


• Daytona Beach, Florida
9 Oct
It sounds like an awesome place to visit, I have only read and written about some of these battlefields but would like to visit one day. Thanks for the link,

•
8 Oct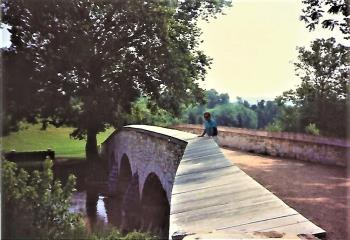 Been to both of these sites. Antietam National Battlefield, Maryland was an excellent set up. The sunken road (bloody lane), Antietam Bridge and the Dunker Church gave you a sense of what it was like to witness the battle.

• Louisville, Kentucky
8 Oct
We went both places when I was a kid. I remember going to Appomattox as well, then on to Williamsburg for the colonial era (which I hope you did....I'll find out soon enough!). I want to go back. I went to Virginia a few years ago to see a concert, and it hit me just how much of that lovely state is still in me after two and a half years of being stationed there in the 80s.

• Hangzhou, China
8 Oct
i don't know the American History,but i know that Lincoln is the best president in America,he united the country,and free the slave,the most important thing is he defended the American constitution and democracy