Agent Orange Reporting for Duty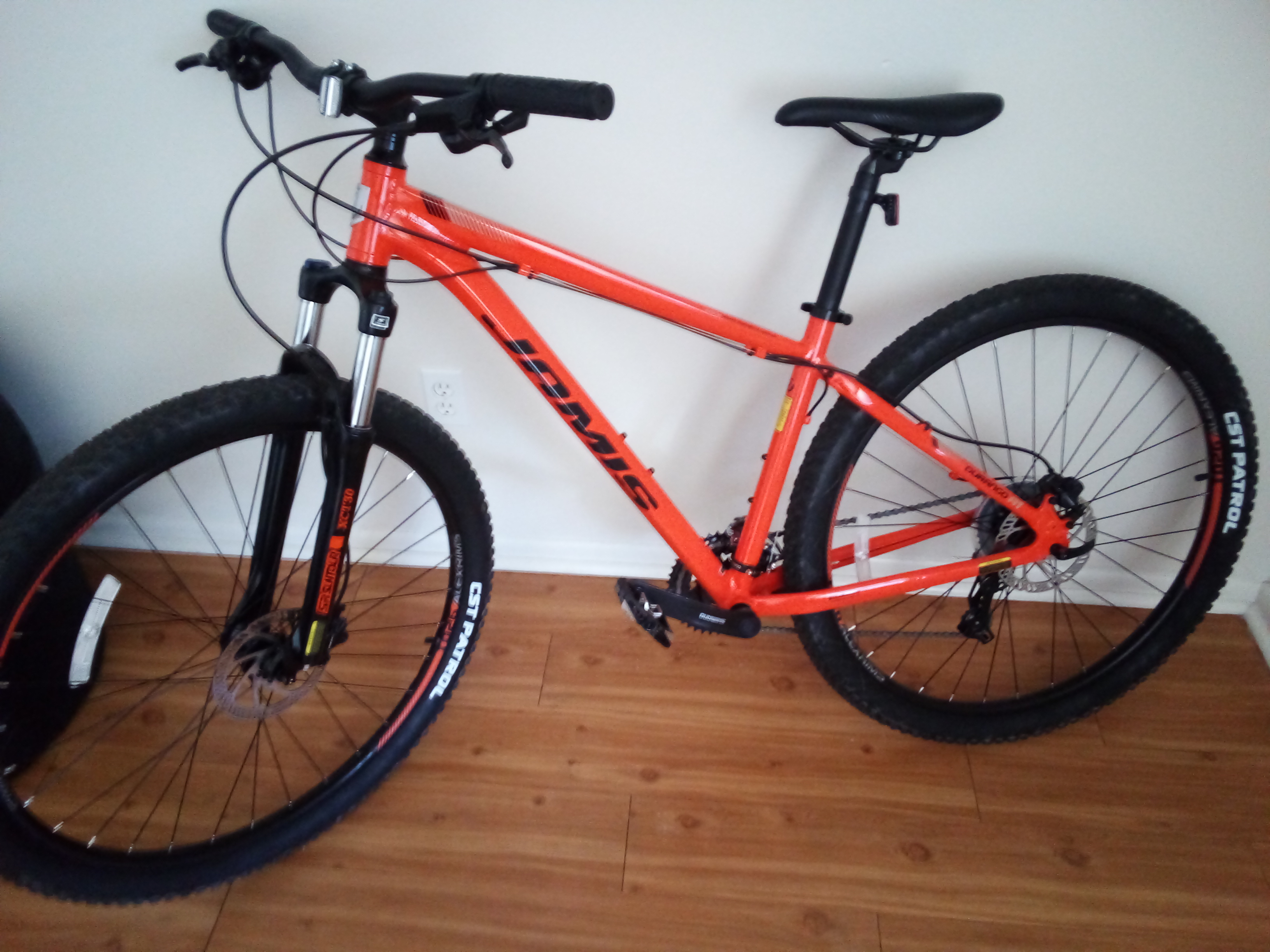 Denver, Colorado
May 7, 2020 11:50pm CST
Meet Agent Orange. As in the punk rock band, Agent Orange. As in "You've heard of Agent Orange? That was my code name. That's what they called me. Agent Orange. I was all over that place." As in, I am not in the habit of naming inanimate objects, but I now own an orange mountain bike, and Agent Orange seems to fit. Basically, you are looking at a photo of my stimulus money. I bought a new mountain bike, a Jamis Durango A1. It's a 29'er (if that means absolutely nothing to you, standard, traditional mountain bikes are equipped with 26.5 inch wheels. A few years ago, the industry started designing and making mountain bikes with 29 inch wheels. Essentially, there's more tire rolling along, resulting in a more efficient pedal stroke.) I've wanted a 29'er for awhile now, and I finally own one. And Jamis makes really good bikes! I put a pair of Crank Brothers Mallet pedals on it, and have a pair of Cidi mountain bike shoes on the way via FedEx. Oh, and I also bought five blunts for $55 for Toko de Mayo at my friendly neighborhood pot shop!
8 responses

• Los Angeles, California
8 May
Have an orange crush to go with it?

• Denver, Colorado
11 May
Sadly, I ordered a helmet on the Internet. Only two colors were available, and I ordered a blue one because it was darker. Now, I realized after the fact, that I'm going to be riding around Denver on an orange bike wearing a blue helmet, looking like I'm a Broncos fan. Yuck.


• New Baltimore, Michigan
12 May

Sounds good. Nice bike. Rock on. I named every single one of my plants. (Not pot plants.) Regular plants

Ok I'm getting out of here. Glad you got your stimulus check Still waiting on mine

• Denver, Colorado
19 May
Hope that you got it by now. I'm lucky, in that I am not required to file taxes as I get a pension from the VA, but the VA worked with the IRS to make sure we all got paid, as they say.


• New Baltimore, Michigan
23 May
@teamfreak16
I got it! Getting a new car.


Down payment

• Agra, India
8 May
Good work....what is a stimulus check?

• Denver, Colorado
11 May
The United States government has been sending eligible citizens $1200 each in an effort to stimulate the economy, which has greatly suffered from the COVID-19 shutdown.

• Agra, India
11 May

• Lake Charles, Louisiana
8 May

• Lake Charles, Louisiana
12 May

• United States
8 May
Thank you for stimulating the economy. Now, let's see some pictures of your rides!!!

• Denver, Colorado
11 May
I got a good photo during yesterday's ride, in fact!

• Bunbury, Australia
8 May
That's a wonderful use of your stimulus money. The bike looks great.

• Denver, Colorado
11 May
Thank you. It's nice to be on a bike again!

• Redlands, California
8 May
When you ride a bike that bright do not think even police can shoot you and if they do its caught.


I am bad at this type of post but so get it,

• Denver, Colorado
11 May
The same model is available in a really cool black frame, but they didn't have one in my size. Too bad.