What is the difference between limited and special edition?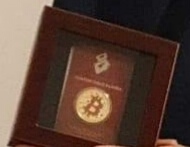 Philippines
May 17, 2020 1:12pm CST
I bought a physical bitcoin and sent it to my nephew as a gift. Her mom said it's limited. I said it's not. He can always load it with more funds, and it's unlimited, not limited. It appears she's not pertaining to adding more funds/bitcoin/euro, but she's pertaining to limited edition. I said it's special edition, not limited, but I can't fully explain the difference.

7 responses




• Philippines
18 May 20
That is really nice. Where did you buy this?


• Philippines
18 May 20


• United States
19 May 20


• India
7 Jul 20
Bitcoin being a crypto currency is trying to compete with fiat currency. Fiat currency is issued by the government while crypto currency is created by the network it works on. As long as it is not used by everyone it would remain rare.

• Philippines
31 Aug
@piyushbhatia1
I believe someday, fiat will be totally phased out and replaced with digital currencies like bitcoin.

• Italy
6 Jul 21
This is a cool item, I've never seen it before!

How is that supposed to work?

If you can add more funds does that mean it's actually a wallet?