Book Review: I Am Not Me by Leslie G. Sabo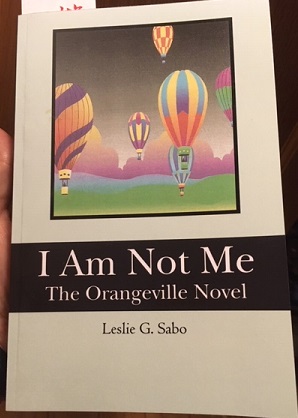 Orangeville, Ontario
June 30, 2020 12:31pm CST
I have to give this story 5 stars. This book was written and self-published by a local (Orangeville, Ontario, Canada) author. The full title is "I Am Not Me: The Orangeville Novel". It is available on both Amazon.ca and Amazon.com. But since I know the author I got a good deal on both this book and book 2 in the series. I was so tempted to go right into book 2 but I needed a bit of a break. It will be my next read. ~~~~ [/i]When Rodger Blackwell reaches middle age, he reflects on his past life, feels that it has been mainly wasted, and is determined to do something about it by finding his true purpose in life. His wife, Claudia Hewitt-Blackwell, fearful for their marriage, is just as determined to do everything in her power to prevent him from succeeding. Will either of them be victorious?[i] ~~~~ I was hooked by the description but even more so by the first paragraph: [/i]"Rodger Blackwell awakened with a queasy stomach, his head throbbing, both souvenirs of their tenth wedding anniversary celebration the previous evening. He kept his eyes closed, fearing that opening them would only intensify the throbbing because he already knew that Claudia had opened the drapes wide, allowing the piercing July rays of the Orangeville sun to enter. Why had he drunk so damn much and gotten so stupidly drunk? Was it simply to celebrate ten years to a lovely woman, or something else? Deep down he knew that it WAS something else, like the disturbing knowledge that he had turned forty just a few weeks ago and had entered middle age. And he still saw no true, worthwhile achievement in his life. Thoughts of this failure were nothing new to him - he'd had them for weeks, months, years, only to push them repeatedly to the back of his mind."[i] Yes, I have been having the same feelings. I have no real achievements. There has to be more to life. More to life than just working to make other people money. Rodger's wife is a realtor who works her darndest to make as much money as possible so she can have a bigger house, a nicer car. She is all about the material things but Rodger believes we must have more of a PURPOSE. He decides to interview people but finds that they are living a much worse life than he, but inadvertently ends out helping them. Could that be his purpose? In this book one he finds some answers and makes some decisions but the quest continues in book 2. There are a lot of references to Orangeville landmarks, addresses, and the church that both Leslie Sabo and I both attend. Leslie used to own a used book store and the character Rodger used to work in one so obviously the author used some of his personal experiences there in this story. This story is very, very close to my heart. I learned a lot and actually, for the first time ever, tabbed pages in this book. There are quotes I want to return to, even refer to and may use another post as a method to show what I learned, what I saw in myself, the ah-hah moments. My only negative about this book is Leslie's writing style. He self-published this book. I'm not sure whether he used an editor. Most chapters are long (30-40 pages) and even individual paragraphs are a page or more in length. And because of his efforts to include Orangeville in the story, he included some information totally irrelevant to the story but probably used to appeal to the local Orangeville reader. But the story is well-written, the characters relatable. I am looking forward to reading the second book. I have found this story very enlightening.
2 responses

• Bunbury, Australia
1 Jul
Some books really do strike a chord with us because of our circumstances or whatever. I hope you enjoy the second book as much.

• Bunbury, Australia
1 Jul
@patgalca
Big books tend to put me off before I even start on them.

• Orangeville, Ontario
1 Jul
@JudyEv
Me too but I tackled the 700+ pages of The Imaginary Friend at the beginning of the quarantine and got through it pretty quickly, so I think I can manage book 2 of this series. But first I'm taking a break and reading a thriller. Gotta mix it up.