Imperfect People ... Things ... Can Make One's World A Better Place ... Too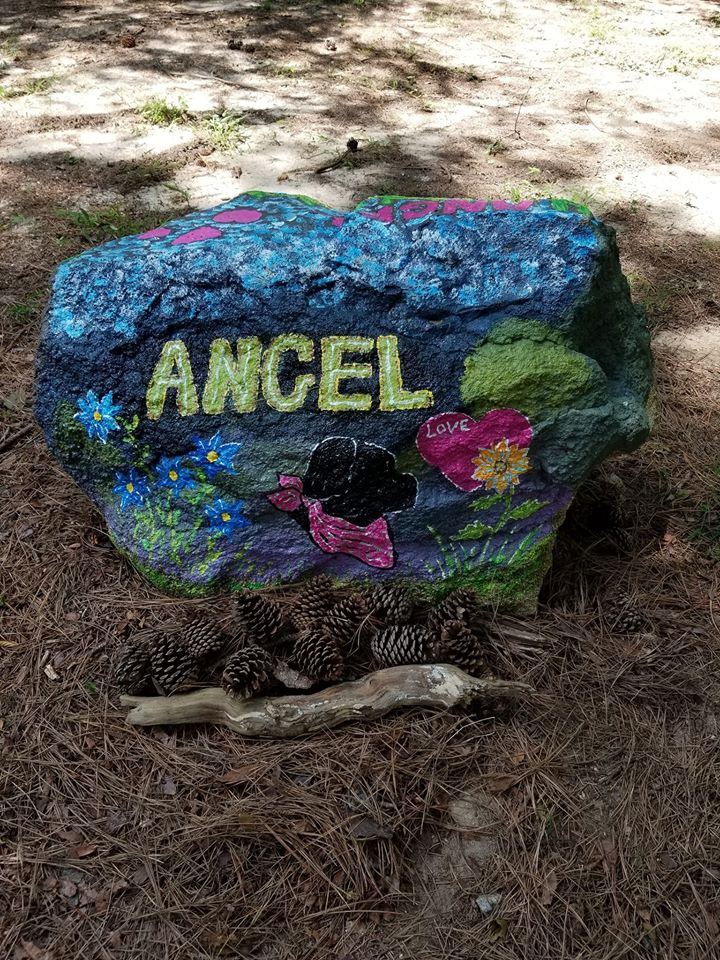 Louisburg, North Carolina
July 27, 2020 9:13am CST
I got up early to beat the heat to work outside on my project. I have been working on it for weeks. Later ... I will show a photo. For now, I will work on it until I finish. Guess what? I am close to finishing! Then ... I have something else in mind to try my hand at

I truly don't know anything about what I'm doing ... BUT ... I am doing it as best I can

It makes ME happy ... and Skip loves it. I think our Pups2 love it too.

When I'm inside ... I am working on several things in my art room. I just finished keeping my promise I made quite some time ago. The photo above is what I did. I painted a special rock. I have an idea I'm working on now ... to make it even more special, beautiful. When I accomplish that ... I will show you a photo of it. I am enjoying what I'm doing now, I'm doing what I want to do. I used to draw, paint mailboxes, furniture, cards, rocks ... for others through the years. Now, I don't ... no pressure ... I do what I want to do.


My frame of mind is completely different now. 2020 has been quite a year not just for ME ... but, for everyone. It changed our whole world ... literally. I know I've not been the only one to suffer depression over all that has happened ... still happening. I'm so glad to get past that as I realize I can't change all that happens ... I can't save the world ... I just do the best I can with ... my one life I'm living ... my little world. We are living in a pandemic ... COVID19 ... Coronavirus. For 4 months I was depressed, overwhelmed, feeling such grief for our country, the whole world ... in a shock really ...at all that revealed itself during the first of the year. What I experienced in no way was as great as what people who became sick, died ... lost loved ones has been. Oh my ... millions of people have died as well as millions who have, are recovering. This is just July 2020 ... it's never stopped. People going into hospitals ... loved ones never seeing them again. This really upset me. People couldn't ... can't see their loved ones in nursing homes. Aging parents left alone on their own because ... their adult children have to keep a distance ... grandchildren can't hug them. The list goes on and on. This does something to one's mind ... especially the ones who actually live it. Families destroyed in many ways. Not only that ... protests everywhere. Pent up emotions, feelings came to a head ... the straw broke ... you know the one that 'broke the camel's back. I won't even discuss any of this as what I could write, say ... can't do justice to what has happened through time ... now. Getting lost in doing things I love to do has made the difference ... lets me feel everything is going to be alright. I'm creating in my own little world ... Skip is my audience ... and he loves it. Colors make me happy ... it has been a long time since I played with my paints ... and with my tools.



I draw, paint, make things, write, rearrange furniture ... bead, wrap wire and so many things ... all imperfectly. I can make things from 'nothing'. I'm not an expert in anything. I do have lots and lots, and lots of imagination! Sometimes, even when things are imperfect ... can make one's world a better place too.
6 responses

• India
27 Jul 20
Where did the idea come from?

• Louisburg, North Carolina
28 Jul 20
That is an interesting question! 'Where did the idea come from?' Could you tell me more so, I can tell you? I love interesting questions, they make for good conversation.




• India
28 Jul 20
@GrannyGee
The flowers , the background and angel. What inspired this design?

• India
29 Jul 20


• Agra, India
27 Jul 20
That is just a matter of outlook. Finding the good amoung a mountain of bad.

• Louisburg, North Carolina
28 Jul 20
Yes, you are right ... we all have different outlooks on everything. I'm always interested in how others see things and hearing their take on them. We never know when something someone says can make all the difference in how we see things more clearly. I really do try to find the good 'among a mountain of bad' ... it's my nature. I'm also, realistic enough to know ... sometimes, it can be impossible.




• Agra, India
28 Jul 20
@GrannyGee
wow ..I adore your attitude and outlook towards life

• Chennai, India
27 Jul 20
Yes all, for happy living our surroundings also need very pleasant. Have a nice day.

• Louisburg, North Carolina
28 Jul 20
Thank you. I hope you have a very nice day today, also. Stay safe!


• Chennai, India
28 Jul 20


• Louisburg, North Carolina
30 Jul 20
I care so much for everything. You touched my Heart with your words, they mean a lot to Me.

• India
27 Jul 20
Good luck for your unfinished project

• Louisburg, North Carolina
28 Jul 20
Thank you! I just came inside ... the heat is so much here. I go out early in the morning, late in the evening for a little while to work on my project. When I get inside ... my clothes are soaking wet. I jump straight into the shower. Thank goodness for wonderful showers!




• United States
27 Jul 20
I understand. That is why I am attempting more sewing, and getting away from the computer and all the news on repeat. I am a color collector as well.

• Louisburg, North Carolina
28 Jul 20
What do you collect with colors? I'm so interested. My art room has all my colors ...

in paints, so on. I love colorful clothes. I also, like calm colors around me.