Pick & Choose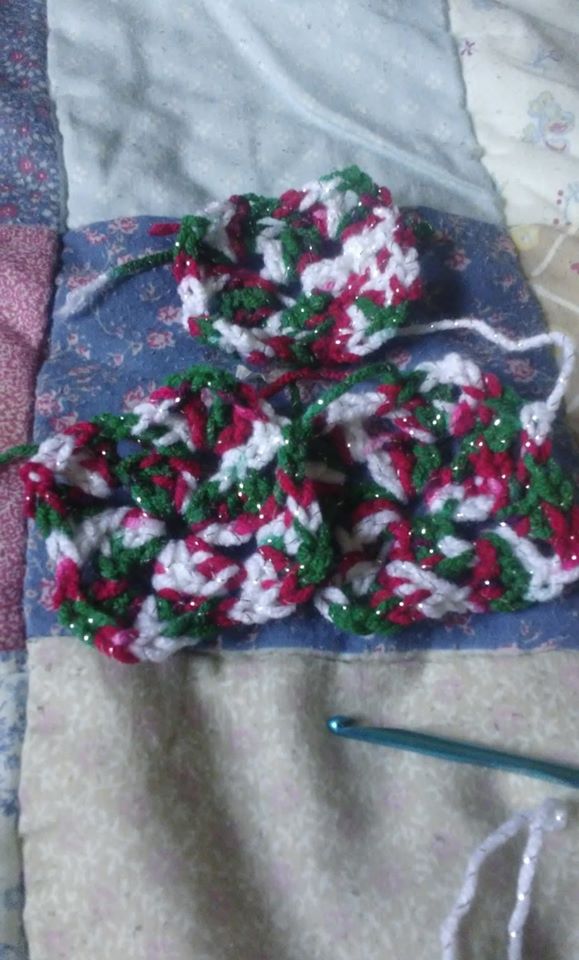 United States
August 1, 2020 8:24am CST
One of the things I've been getting tired of, is making so many discussions a day. I mean, I know it wasn't ever a requirement to even make a discussion but.. anyway, I am going to start doing multi-topic discussions instead. Get everything I want to say out in just one post Crochet The image above (if it loads) is of two row granny squares. I'll be honest in saying that lately I've been struggling with the third row. So I just end them at two rows and eventually they will all be blocked and worked into a blanket that I'll border & join the squares with black yarn. Shelf-ish I need to hop to and get rid of some of the books, but I keep making the excuse that I need to find out if the thrift store will buy back any books or just give me store credit. Dream I am not going to relate the entire thing, mainly because I don't quite remember it. I do remember that I was following some man that I was meant to be on a date with, and we were going through this large building. We finally get to our destination and open the doors (we're sneaking in) to find that the entire room is made up in early colonial fashion. Everyone is dressed in the trappings of that time, and we begin to realize that they are actually historic figures. We try to close the door gently, but end up slamming it in our effort to get away as quickly as possible. The man I am with is captured almost instantly, but I am able to get further away. Meanwhile, the building is transformed with every step I take. As if by opening that door, I opened a portal into the past. It was odd. Schedule & Sleep I feel like I can get more done now that I have a different sleep schedule. I'm implementing a further schedule for my day as well, which might help with this frustrated & irritated feeling I've been having lately. What's on in the background Sounds of thunderstorms on pandora. I am still enjoying no commercials, so much so that I will most likely keep the subscription after the free trial has lapsed.
10 responses



• United States
21h
I love your sparkly yarn and it is very holiday/festive. I also have a few books I'm going to list on Ebay and see if they sell. If not I'm going to put them in our little lending library by our community center. We had some pretty bad storms yesterday but today is nice and sunny. Enjoy your day


• United States
20h
I may go to the thrift store today, I haven't decided. It is something that I need to do, however, just to see if I can get a few things sold and ask about re-selling books to them. I haven't been to the thrift store in a long time. I've decided not to do the ebay route, but I wish you luck with it.

• United States
18h
@ScribbledAdNauseum
I've taken some time off from Ebay since the last stuff I listed didn't sell. I do have about 4 books that might sell so I'm going to give it a try. Our thrift store is still closed otherwise I'd be dropping stuff off today. Hope you can re-sell your books at your thrift store

• United States
17h
@Marilynda1225
Thank You, I hope so. I checked their website a few days ago and they had a confusing message. Something about being about to sell one box full of stuff at a time, but there were restrictions on browsing? That's something I'll have to get clarified. It's pouring down here, so I"m definitely not doing it today.


• United States
1 Aug
Thank You. I've been working on more of them today. I think I'll want 12-24 per row, but I haven't decided yet. I'm glad you have that bookcase. Once I get rid of several books, I'll have more roam for either more books or more yarn.

• United States
1 Aug



• United States
2 Aug
Thank You. I'm really enjoying it. Just waiting until a check clears so that I can order more yarn for my projects.

• Nashville, Tennessee
2 Aug
@ScribbledAdNauseum
Good for you. Most of the birds have left, so I am enjoying silence these days.


• United States
2 Aug
I've been crocheting at least six or seven squares a day. I need to get the black yarn, but will do that soon as hobby lobby has a sale going on at the moment. I'm a little terrified about joining them, but I'll just go slow and make sure I match stitch for stitch.

• Hamilton, Ohio
2 Aug
@ScribbledAdNauseum
I wish I could still crochet, but my arthritic hands and fingers don't let me anymore.

• United States
2 Aug
@gr8nana6
Do you think compression gloves would help? Or would they be too cumbersome to crochet with?


• Green Bay, Wisconsin
1 Aug
That was a pretty whacky dream. I'm glad it wasn't real. Your crochet projects look nice.

• United States
1 Aug
I am glad it wasn't real either. It was very weird. Thank You. I am hoping that they'll look all pretty put together.

• Green Bay, Wisconsin
1 Aug

• United States
1 Aug
@just4him
I've never joined squares before so i will have to do a lot of research to decide which method I like best.


• United States
1 Aug
Thanks for the update. Your crochet pieces look very Christmassy! Books are hard to part with. Another odd dream! I hope you can develop a new attitude which will alleviate the frustration and irritation. Can we help? PM me if you want to. Have a good weekend.

• United States
2 Aug
Thank You. I feel a lot better after having gone to the water with friends a few days ago. I've already developed a new schedule for myself which helps tremendously. I'm also out of my writer's block and tip-tapping away at the keys. Of course crocheting helps too as it's just another thing to occupy my mind.

• United States
2 Aug

• United States
2 Aug
@LindaOHio
Thank You! Now if only I could get motivated to finish organizing my bedroom. I keep finding new things I could / should do.


• Agra, India
1 Aug
Amazing crochet work.... Ii loved it.

• United States
1 Aug
I love this yarn, it's pretty with the tinsel that runs through it.

• Agra, India
2 Aug
@ScribbledAdNauseum
yes...for sure. You reminded me of my child hood when I was so fond of doing all this

• United States
2 Aug
@amitkokiladitya
My mother used to craft when I was a child. She crocheted, but she also made ornaments out of shrink a dink (plastic that melts in the oven), made soaps and chocolates as gifts and some other things that I am sure I'm forgetting. I believe she used to make leaves out of paper bags, but I am not sure how she did it exactly.


• United States
2 Aug
Yes, I love the christmasy colors. I bought two different types in similar colors. One skein is Christmas cotton so that I can make a washcloth as part of a friend's Christmas present.

• United States
1 Aug
Sounds of thunderstorms sounds cool. I should try to find that on Alexa..of course we might hear some here for real!

• United States
1 Aug
We did hear some for real last night and it was nice.