Unusual New Zealand Bird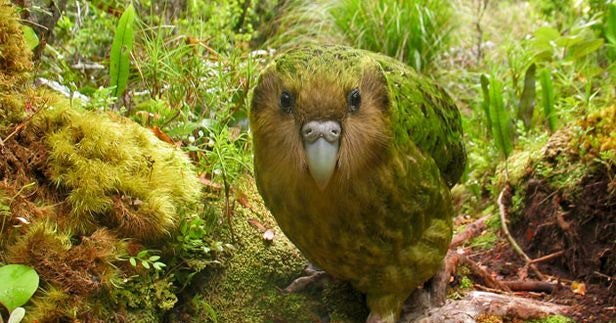 Daytona Beach, Florida
September 15, 2020 8:08pm CST
I found another unusual looking bird online. Curiosity made me read more about it. This bird is from New Zealand and is called kakapo. It is also known as the parrot owl. Which is odd enough because I did not know there were bird mixes of parrots and owls. The kakapo has feathers of yellow and green. It is known by its large gray beak. The bird's legs are shore and it has large feet. iT is a nocturnal bird that does not fly. The bird lives for 90 years and is considered to be the heaviest of the parrot species with females weighing 1.4 kg or 3 lbs. and males 2.2 kg. or 4.8 lbs. The kakapo is a vegetarian that eats leaves, flowers, fern fonds, bark, roots, fruit, and seeds.
10 responses

• Bunbury, Australia
16 Sep
These are quite strange looking birds, aren't they?

• Daytona Beach, Florida
17 Sep
That is what got me curious an article on unusual looking birds
@JudyEv
they are in New Zealand but do you also have some?

• Bunbury, Australia
17 Sep
@RasmaSandra
The NZ kiwi is strange looking too. I don't think we do have strange-looking birds. We have emus and cassowaries but they're much like the ostrich. We have very colourful ones but they all look like birds. lol

• Daytona Beach, Florida
17 Sep
@JudyEv
I just wrote about the kiwi as the national bird of New Zealand


• United States
16 Sep
What an unusual looking bird!...and it lives so long. Thank you for an interesting post.


• Green Bay, Wisconsin
16 Sep
That's an interesting looking bird. Very pretty too.

• India
16 Sep
Australia and new zealand has all sorts of crazy animals

• Ireland
16 Sep
@rasmasandra
Facially it resembles a woman I know. Can't believe I've never heard of this bird before.

•
16 Sep
its the first time i see that kind and never heard of it..thanks for sharing ma friend

• Agra, India
16 Sep
Thanks a lot for this information. The bird is definitely very interesting to look at

• Montrose, Scotland
16 Sep
Kakapo make good pets. We used to keep exotic birds and at one point we had a chance of one. Wasn't sure how it would mix with our Parrots so we didn't take it

• India
16 Sep
Interesting to learn.. I just checked from youtube and it seems to be calm and likes to live in it's own world