Might as well make it fun! (Masks)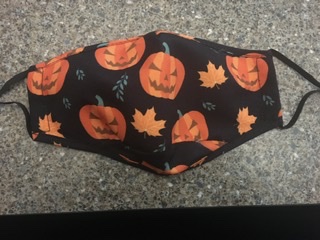 United States
October 14, 2020 9:12am CST
Happy Wednesday and how is everyone doing? It is normally my day off but I am up getting ready for a 10 hour overtime shift. I am going to try to be somewhat active on here as I haven't been for the past month or so. Things have been crazy. BUT I have still managed to do some online shopping-which includes a set of "spooky" reusable masks. Pictured is my favorite. I bought this off of an ad on Facebook and bought a set of them for pretty cheap. Not the greatest quality, but better than nothing. Are you finding any creative masks, or maybe making your own? What is your FUNNEST mask? And I do have to wonder if Employers will soon have "mask dress codes".
9 responses

• Philippines
14 Oct 20
That is a nice mask. Perfect for Halloween. No special mask for me.

• Philippines
15 Oct 20
Business is devising anything to earn more. That's the nature of business.

•
14 Oct 20
You're Halloween ready with your mask!

Nice! I don't have any printed mask. My masks are the medical grade or surgical mask. I have 2 cloth masks, plain ones for reserve.

• United States
14 Oct 20
I have some tie diyed ones I got at Walmart. I saw someone wearing a Halloween one at Dollar General. She said they didn't have any adult sized ones left...boo!

• United States
17 Oct 20
I have bought a few mask myself i like the fun pattern ones as I hate the plain old simple ones. We have to wear mask at work all day - the surgical ones can't wear cloth mask. I'm still working from home so I don't have to deal with that but soon I'll be going back into the office just not sure when.

• Philippines
28 Oct 20
Wish I could also have fashionable masks. But am on tight budget. My mask with changeable filters was a bit expensive. It's colored pink. I thought that the color could perk up people I get to meet in the grocery. Take care always.

• United States
16 Oct 20
Very cute mask. My friend who loves Halloween would totally love it. Good luck on the overtime! :-)


•
15 Oct 20
That is a fun Halloween designed mask! I've noticed a lot of media people, celebs, politicians and sports athletes with cool masks. Looks like it could become a trend!