Feed the birds this winter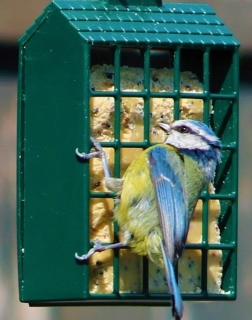 Edinburgh, Scotland
October 30, 2020 3:24pm CST
Not just birds but many creatures struggle to find enough food to survive a harsh winter and, with winter approaching, now is the time to consider making preparations to help them survive. In my area winters can be quite harsh with hard frosts causing many natural water sources to be unavailable to wild creatures. For many years now I have been doing by small part to provide food and water for whatsoever wild creature needs it by placing bird feeders in my garden and making sure that the water fountain I have doesn't freeze solid so that birds (and others) have a source of food and water through the winter months. The picture above is a Blue Tit which found one of my garden feeders last winter. It is tucking in to a suet ball studded with seeds and nuts. Do you do this type of thing in your garden during winter?
9 responses



• Edinburgh, Scotland
30 Oct 20
I didn't know birds would be that fussy!



• Edinburgh, Scotland
30 Oct 20
I don't see the need to feed them all year round but it does attract them into our garden so we can admire them


• Edinburgh, Scotland
30 Oct 20
They don't need fed through the summer but at least it brings them into our gardens so that we can see what's around and admire their colours

• Philippines
30 Oct 20
You are good at helping those birds and other creatures to survive winter.

• Edinburgh, Scotland
30 Oct 20
We do what we can. I don't like the thought of them going hungry when there's something I can do about it

• United States
31 Oct 20
That's a great photo. I can't get around very well; so unfortunately I don't feed the birds. I'm glad you do.

• India
30 Oct 20
Very nice effort


• Edinburgh, Scotland
30 Oct 20
Thank you, I do try my best

• El Paso, Texas
31 Oct 20
I have many pots of water on an outdoor table for the birds. As for winter, we might get a little more winter than usual this year but typically it doesn't get overly cold here.