An Alpaca on my Laptop.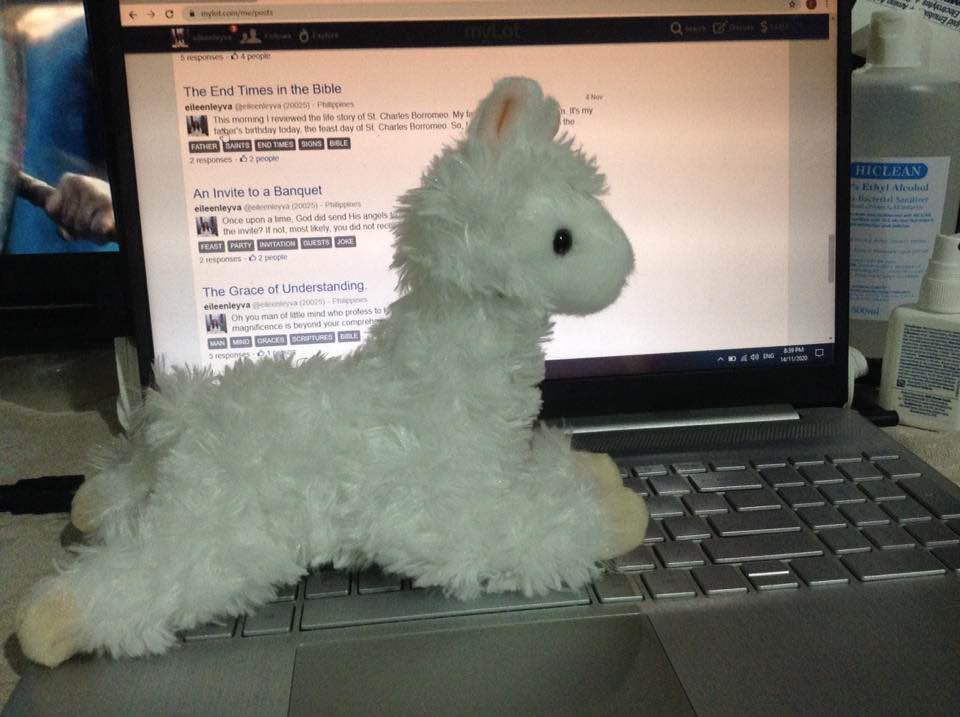 Philippines
November 17, 2020 1:39am CST
It's been a distressing past few days. The newsfeed is filled with more and more harrowing conditions of the aftermath of the deluge. In some areas, the mudfloods have not subsided. Demagogues are quick to put blame on this and that, obviously panning the attention away from themselves, the very culprits guilty of denuding the forests, quarrying the mountains, stealing the funds for drainage systems, and literally neglecting their constituents of a decent standard of living which their taxes paid for. Grrrr. That is why I couldn't eat. The images were morbid. How could anyone eat when out in the cold night an elderly is shivering on a rooftop. A woman was lucky enough to deliver her baby in a rescue boat. Elsewhere were corpses of men and beasts. Joined my elder daughter in delivering the donations for relief packages. It was all I can do to take my mind off the news. When I got back, there was an alpaca on my laptop. My younger daughter shared her new stuffed toy with me, to cheer me up. Thus I refrained from writing, too. Sometimes, what you see and what you feel couldn't be written.
7 responses


• Philippines
17 Nov
There is a family of eight living in a thatched house, with the earth for the flooring. The children are malnourished, three of whom are albinos who need eyeglasses to shield their eyes from the light. The damp dwelling is not even fit for a goathouse. Hu hu.

• Switzerland
18 Nov
@eileenleyva
There are people who live in miserable conditions, it's horrible. When you think to those rich people who do nothing to help.

• Philippines
18 Nov
@LadyDuck
That is true. And to think that we have an inutile of a despot absent during the critical time when a leader is needed, now acting gung ho, criticizing our lady veep who took the initiative to bring hot meals to the victims during the storm... Yes, there is no hope for callous creatures.



• Philippines
17 Nov
The capitalists obey no law, they just dredge the mountains and cut the trees for vested interests.

• Philippines
17 Nov
@eileenleyva
Soon the earth is gonna be doomed. Hope that will not gonna happen.

• Philippines
18 Nov
@miketagz
The earth was already doomed. The Amazon was burned, so did the Indonesian Rain Forest, California, et al. That is why the pandemia happened. It's a divine intervention.


• Bangalore, India
17 Nov
Most of the newsfeed are full of bad and disturbing news. And what hurts the most is that those in power and responsibility try to pass the buck and keep themselves clean. We can only pray and do our part as a responsible member of the society. So sensible of your younger daughter to cheer you up and your daughters are sensible and responsible.



• Philippines
17 Nov
The deluge was apocalyptic. Though the sun shone bright the day after, the floods did not subside. The tyrant in our country was nowhere to be found. A demagogue was even seen laughing, his people suffering. My two girls cooked a decent supper but it was difficult to swallow knowing there are many who are cold and hungry. The girls updated each other on their career plans while I listened, praying that their dreams come true despite this miserable world.

• Bangalore, India
24 Nov
@eileenleyva
We can pray and hope and do our bit to make this miserable world a better place to live. Wishing your daughters all luck for their career plans.


• Philippines
25 Nov
@arunima25
Thank you very much. Here's really hoping and praying the misery be eradicated on the face of the earth.



• Philippines
19 Nov
I've seen alpacas only from videos. That stuffed toy was 'pasalubong' from my elder daughter to her sister. Yes, I think I like alpacas, just like the sheep and the goats.

• Philippines
19 Nov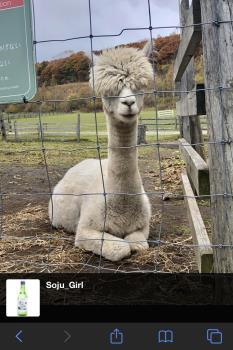 @eileenleyva
so I wrote a discussion before asking myLotters what this is

• Philippines
19 Nov
@sol_cee
I believe I missed that discussion. Will check on it.



• Philippines
17 Nov
The wretched fills the earth, dying without knowing what life could be.


• Philippines
17 Nov
My fb post 16 November - I couldn't believe it but I was in awe of my millennial friends rising up to the occasion. I humbly prodded everyone to pitch in, hoping that whatever we can give could help the devastated victims of the typhoon, flooding and landslide have something to eat and keep them warm for a day or two, till they get back their bearing and stand up on their feet again. Lo and behold, the millennials did not just donate, they spearheaded fund raisers and garnered huge amounts, bought supplies, packed the relief bags, chartered transportations, including air assets, and the goods are on the way to the affected areas. Carry on, young friends, continue packing, you are well on your way to making the change. God bless you all the more. Thank you for recognizing an inherent Filipino trait of helping each other. We call it 'Bayanihan.'