Why the Duterte fans I debated on Facebook have the same script?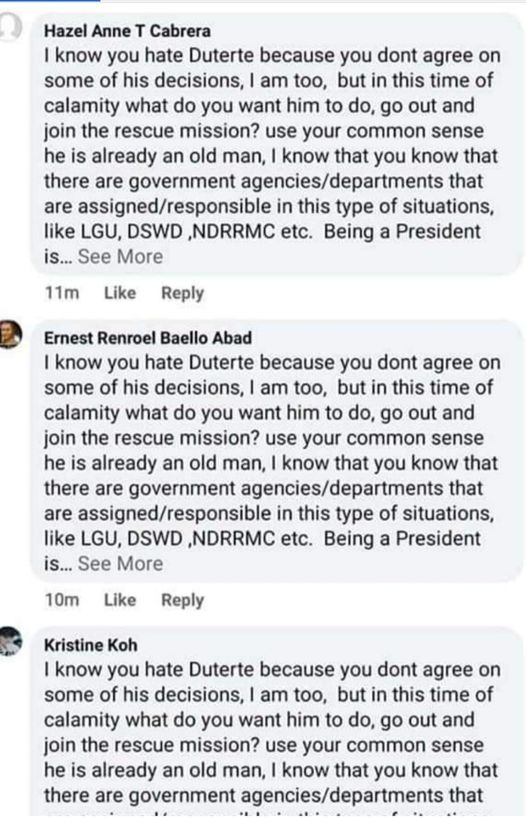 Calgary, Alberta
November 17, 2020 6:48pm CST
The 'fans' of the incompetent President who did nothing but mud slinging and spread fake news are now sending his paid trolls full force. Oh few days ago he have a meltdown because the Vice President outshined him on helping the Typhoon victims while people notice he did nothing. He is paying these people to defend him with the same script. All of the accounts that attacked me have no personal posts, all Duterte defense and joined Facebook recently.
4 responses

• Philippines
18 Nov
I don't think the President is responsible for this. A man like that doesn't need an organization like that just to lighten up his image. Some fans or supporters are just taking it to the next level. Of course, they could be paid people, but I ask myself, why does he need that when he only has few years left? Honestly, the problems are too severe that no President could fix, he really tried..I think people's attitude will always be a problem regardless of the administration.

• Calgary, Alberta
18 Nov
He has been paying Mocha for years. They still want power and currently trying to Build Bong Go and Sarah as his successor. Well he had been showing incompetence the whole pandemic and the storm crisis with bigger funds. Leni defeated him in competency and he blocked her from getting funds. Trolls are still aggressive to defend Duterte because Leni was outshining him the whole year. I think the person who will be opposition next election should do stealth strategy and proclaim candidacy the last minute. Binay,Roxas and Poe proclaimed earlier so they got a lot of earlier mudslinging. Both Noynoy and Duterte are last minute candidates on their victories. So they didn't get much mudslinging.

•
18 Nov
@CaptAlbertWhisker
Poe. Is a US citizen she afraid to loses her US passport. And have lots of propaganda too online

• Calgary, Alberta
18 Nov



•
18 Nov
Filipino loves him if u lived stay in Philippines for. 1 year u will understand. That he have more accomplishment Than the past president who done NOTHING

• Switzerland
18 Nov
@GodServantme
NOT all Filipinos love him because I know many who hate him.

•
18 Nov
@LadyDuck
yeah he make some scandalous too like rape jokes in Australia woman. And. kissing he's supporters. Lips to lips. But I think Kim Jong un is more worse leader And the more worst is like Hitler , Lenin and other war monger leaders


• Daytona Beach, Florida
18 Nov
I think they are all done automatically and I think they should just be ignored,

• Calgary, Alberta
18 Nov
Its funny they accuse oppositions doing the same but all the opposition I see are real profiles.

• Philippines
18 Nov
It's like there is a central repository of the same script they spread around to make it look like they are many.

and they earn from it if you engaged with them. I do not usually reply to them but report those that are offensive post for FB to delete or make their accounts suspended. That is why many trolls have shifted their strategy making their page clean like posting bible verses and the likes so that they will not be suspected top being a hate troll army. Their language has also change too that they do not usually swear a lot anymore.


• Philippines
18 Nov
@CaptAlbertWhisker
They have been target by fb when the main pages of their sites where all shutdown because if inauthentic behavior. Now they are regrouping again with making their pages clean from any political post. But they lurk in some legitimate sites to post propaganda in favor of the administration and would attack opposition subtlety. They just want someone to engage them to get paid.

•
18 Nov

•
18 Nov
@rsa101
people compared trump to duterte they thinking duterte copying trump style But they wrong trump is s business man. While duterte is a politician for a long time even he didn't elected as president.