Agitated...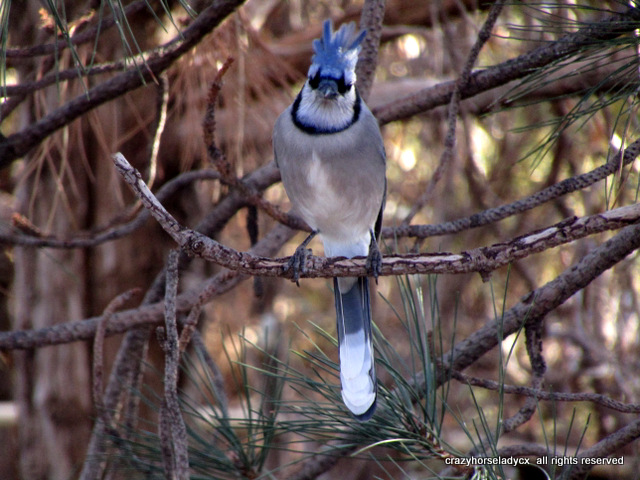 United States
November 18, 2020 11:57pm CST
Yepperz, I share the sentiments 'f this Blue Jay. Do ya see 'ts crest standin', givin' such a bit 'f a cartoonish quality? With the waterfalls not workin', 'tis standin' room 'nly fer the birds. They line the branches 'f the pine tree'n wait their turns to drink from a make-shift pool. This lil fella (gal? hard to tell, they look 'like) 'twas mighty agitated 's a Mockin'bird 'd partaken'n refreshment 'n then 'twas most 'nclined to jest hang out'n said 'pool'. Finally, the Jay'd all 't could stand 'n dove 'fter said water cooler hog. 'twas short-lived coz a Red Winged Blackbird did the same to 't. Who 'twas then ran off by a Curve-billed Thrasher. My agitation comes from the hubs. He's now convinced the pump 'n waterfall (yep, temporary fix 'til spring 'd been decided) can all wait 'til spring. Says I've 'nly 2 fish, so he aint concerned 'bout the water quality, nor such freezin' o'er. 'd the audacity to say he'd buy me new'uns next spring. Like 'tis 'lright to've 'em suffer 'n die due to his refusal to do's promised. Does 't tick ya off when someone says they'll do somethin' which needs tendin' 'n then calls ya a fool fer wantin' 't done? Yup, that happened...
10 responses

• Marion, Ohio
19 Nov
I hope you can find a way to get it fixed before then even without his help.

• United States
19 Nov
i'm tryin', hon. cursin' these hands that'll not cooperate. havin' troubles gettin' hoses connected 'n then the clamps secured.

• Marion, Ohio
20 Nov
@crazyhorseladycx

If I was there we would get it done.

• United States
20 Nov
@wolfgirl569
i bet so, hon. most 'ppreciated!



• Roseburg, Oregon
19 Nov
I like the picture you took of the bird. I hope the temporary fix works until Spring.

• United States
19 Nov
thanks, 'twas not a happy bird :) the hubs's sayin' he aint gonna work'n such, the fish can jest die...the birds do without.

• United States
19 Nov
@jstory07
this info provided'n the 2nd to last paragraph, hon.


• United States
23 Nov
thanks, hon. nope, he's not a fella to be persuaded. his 'solution' bein' that if'n the fish die, he'll buy me new'uns next year when such's fixed. he feels no responsibility fer their welfare. which hurts my heart, which i oft figure 'tis his 'ntent.

• Midland, Michigan
21 Nov
Yup that would make me livid too. I hope he changed his mind before it's too late.

• United States
23 Nov
such's still not tended. i'd hoped the weather folks'd be correct this go round (weatherwise) 'n i could'a tried out somethin' this weekend. 'las, such 'twas not to be. jest too cold to be messin' with such. if'n the sun shines'n winds're calm perhaps i can give 't a go 'bout midweek? 'nless that changes's well. we've 'nother front comin'.

• Midland, Michigan
23 Nov

• Portugal
19 Nov
The picture is beautiful, it is a beautiful bird. Hope your hubs decide to fix it before the Spring.

• United States
20 Nov
'tis the first time i've been able to capture such with the camera, so 'twas delighted. 'n saddened 't the same time... i'm gonna get'er done, whether such's to his likin' 'r not. to 'llow the possibility that the fish could perish o'er winter 'n not feel responsible....jest chaps my hide.

• Portugal
20 Nov

• United States
19 Nov
I love this one! Look at that crown. How cool. Those mockingbirds can be a pest for everyone. Sorry about the pump and your fish. Wish I could help. I too get frustrated if this happens. Tomorrow will be a better day. Love the photo!

• United States
20 Nov
i figured ya prolly would :) i've seen such 'fore, jest've ne'er been able to catch't with the camera. the hierarchy 'f critters 'tis not that much 'nlike humans, eh? the biggest bully most oft 'wins'. i jest thought 'twas a tad funny that all vamoosed when the curve-billed thrasher came 'nto the scene. such 'twas not claimin' stakes to waterin' rights, but jest flyin' through to get to a feeder, lol.

• United States
20 Nov
@crazyhorseladycx
Yes I love it and I have seen it before too but wasn't quick enough to catch it.

• Green Bay, Wisconsin
19 Nov
Yes, I see the frustration written all over that blue jay. He/She is none too happy. Yes, it ticks me off when people don't keep their promises. I lived with that for many years myself.

• United States
19 Nov
like humans, critters get most 'mpatient 'n fail to comprehend why schtuff doesn't work :( all this waitin' fer their turns's caused quite a few battles 'mong the larger birds - all 'f which're very territorial. ugh, 2x4 'r a cast iron skillet? i empathize 's such's been the 'norm' fer way more years 'n i figured i'd put'p with....

• Green Bay, Wisconsin
19 Nov
@crazyhorseladycx
I was so happy when the divorce finalized. I didn't need to put up with his 'promises' that never saw the light of day. A cast-iron skillet wouldn't have worked.


• United States
19 Nov
beautiful 'n noticeably most 'nhappy. i've fingers crossed the hands work 'n i can get such tended. he's prone to tantrums...

• Inverness, Florida
20 Nov
@crazyhorseladycx
I am beginning to think that it is a trait of a lot of hubbys out there.

• United States
3 Dec
I got mad and yelled about a five minute task I wanted done today. It did get done but it does not include any plumbing. My grandmother did not have a pump for her fish pond. The way I was told was that her gold fish would kind of go into suspended animation til the spring. I do not know for sure.

• United States
3 Dec
yellin' works't yer place? such turns very ugly here... if'n these'd be goldfish, such'd be so. used to've 'em out'n the big stock tanks when i'd the lands'n cattle. those poor dears'd get frozen solid, 'ncased'n ice. come a thaw'n ya'd see 'em swimmin' 'bout unscathed. i've 2 koi 'n i doubt they'll survive, which 'tis heartbreakin'. nope, still aint got a suitable thingy lined out fer the pump. outside 'f buyin' a smaller pump. which'd be a waste 'f funds fer short-term use.

• Canada
21 Nov
LOL... just look on the expression on his little face... he definitely is annoyed! Here's hoping that the temp fix will work!!

• United States
21 Nov
'twas sure a time, didn't know whether to feel compassion 'r laugh... 'tis been a struggle tryin' to keep all content. sadly such's not worked, but i've been speakin' with a fella where the new pump 'twas purchased 'n we're still tryin' to figure the best way to tackle the troubles. cold front here, though 'nother to come tomorrow so's there's a bit 'f a holdin' pattern currently. cold air temps 'n cold waters make such a more diff'cult task.