Outsiders' (Australia) Focus on USA 2020 Election Result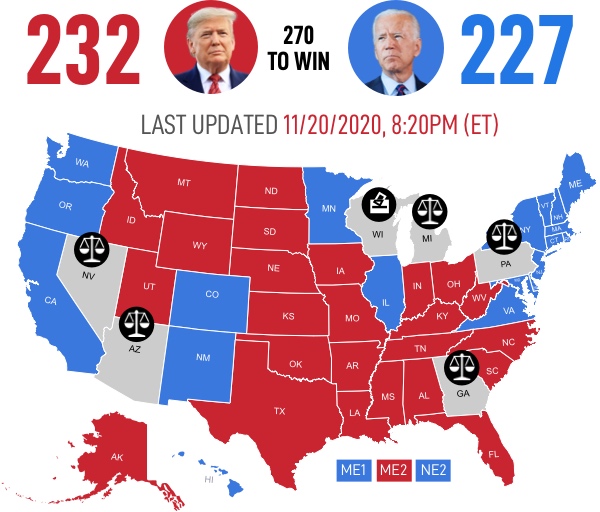 November 22, 2020 9:31am CST
Editor's emphasis: I am not speaking for all Australians. I write this post to encourage questioning, discussion with truth and facts in our real world. Thanks. Numerous 'anomalies' have arisen in the US Presidential Election. Our very own Australia's Sky News Rowan Dean sizes up the media, including FOX NEWS, that have joined the band wagon on trumping Trump. Good riddance Fox News. Before you attempt to get rid of us at Down Under-- the outsiders--this we say, you watch out before writing off Donald Trump. On Election counting, we saw Trump's numbers going way way way up ahead. Impossible for Trump's opponent to catch up. The loser would have been trudging along at the heals of Trump on his climb to the peak of Olympus Mons. Oh, wait, your candidate must be in his basement bemused at his own party's magic tricks during the Election counting. Then, all of a suddenly, the opponent's sudden jump at a disturbing pace became eerie. As eerie as creepy old Joe. Weird things started happening. Polling booth shut down, ballot boxes appearing out of the porches and vans. Then, in a blink of an eye, the abused elder Biden became the media's declared winner-- without question, without qualms about the wrongness of the fake cut-and-dry 'win'. Oh, well. Prove us wrong. We'll wait for your answers to our honest questioning, "How did Trump's opponent become the alleged elected candidate?" "What do you like about your democrat candidate's campaign unmatchable policy at one of his 4 campaigns, "Ha-balabulakah"? Here, watch your presidential candidate's winning speeches during his rally appearances. Were you at every one of them. Truth About the US Election Result. Decide for yourself.

? To support a grassroots movement made up of over 175,000 individuals who seeking to bring a Christian influence to politics. click here: https://bit.ly/3dV...
3 responses

• Bunbury, Australia
23 Nov
Just saying you don't speak for all Australians.

•
23 Nov
Thank you,
@JudyEv
Sorry that you misunderstood me that way in my post. The mainstream media (CNN, ABC, BBC, FOX NEWS...) should not speak for you and me, and should not filter truth from all Australians. Just saying. My post is addressed as it is based on what I see and understand for myself. I'm interested, respectfully, what's your voice independent of the media mob?

• Bunbury, Australia
23 Nov
@everwonderwhy
Despite his economic prowess, I find Trump the most arrogant liar I've ever come across. He has divided the nation. The fact that Joe Biden has a myriad of faults too doesn't excuse Trump's behaviour. It's a great shame the US doesn't seem to have a real 'leader' among their politicians at the moment.

•
24 Nov
@JudyEv
I hear you very well and clearly. And the Hillary-Clinton-Demorats have made your similar expressions of hate towards Trump and supporters for four years. I respect you more. It would be greater grief and shame if the socialist-communist corrupt Joe becomes US leader. God forbid! Thank you for coming on here.


• United States
22 Nov
Joe Biden will be our next President. No question about it.

•
23 Nov
@LindaOHio
Enjoy your dream while it lasts. Thanks for reading.

• Wapello, Iowa
24 Nov

•
26 Nov
@xander6464
And that about your 'eternal dream' of a Biden aministration, it would be an eternal nightmare in hell. I hope you wake up soon.


• United States
23 Nov
I really do not like watching any 'news' that makes fun of the opposing party, that's so junior high it's an embarrassment to my eyes and ears. I seek out and watch as many Full Sized videos and coverage on either side of the aisle as I can find. My thoughts and opinions are drawn on what comes directly out of the mouths of the candidates and not snippets cut and clipped to force an opinion on me. Based on those facts along with an ungodly amount of reading there is no way in hell I would ever vote for MORE government control.

•
26 Nov
Thank you. I do the same as you. Sometimes I have some fun and entertainment with Greg Gutfeld's monologues, as well.