Is this the future of money or isn't it?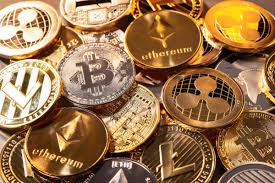 November 23, 2020 2:54pm CST
Wanted to thank everyone for their supportive suggestions first, from my last blog. I used to work for a bank. Had an aunt that was an accountant who steered me towards the financial field when I was young. Now I spend most of my time on selling clothes and my art, but for a time I worked at a desk. One of my hobbies is I dabble in investing. Nothing major mind you. I don't like to lose money. I checked my crypto currency wallet today and it had jumped up and of course that's always a good feeling. I still don't change my allotted amount I invest in it every week. Which is only between $10-$20 a week until I reach my goal amount. Okay so I was warned this isn't a blog. lol I authored a book on how to raise your credit score, so this is one of the subjects I specialize in. I will try to get to the point. After I checked my portfolio, I started thinking of a friend of mine that is all about the crypto. Humm I thought maybe he's right? Then there's my husband who is all about the gold and silver. Also, we have a friend that thinks we should stick to traditional investing. lol Grandma was right again, never put your chickens in one basket. I want to stress sometimes I only invest $5 If you dedicate yourself eventually like I did today you will go whoop, whoop. What do you think? Are we going to be stuck with just digital money? Or is it going to go Mad Max and we need get Gold and Silver? Or is everything going to level out again and life will be back to "normal"? Thanks for stopping by.
3 responses

• United States
23 Nov 20
If people don't wake up to the socialist agenda it won't matter. But my hope is to return to a much more peaceful normal in which case you are smart to diversify.

• Edinburgh, Scotland
23 Nov 20
What is a socialist agenda?

• United States
23 Nov 20
@ScotMac
Use your search engine. 'green new deal' 'build back better' and go from there.

• United States
23 Nov 20
I think the investment sector with crypto currency will have enormous potential in the future, but the value is also fluctuating, right, it's called business investment, it can go up or down, but switching to digital money is very good, but using traditional money is still more practical if you have to shop at the market

• United Kingdom
24 Nov 20
You are very smart to diversify your wealth building. At the moment I have four saving accounts. Three of these are regular saving accounts. They will pay 2.75 percent interest. I have another saving account that will pay 1.2 percent interest. In 2017 I paid off my mortgage after 7 years. Yes, I began that in 2010. In 2012 I changed it from another 23 years to another 10 years. Then in 2013 I began overpaying my mortgage. I did target setting in 2016 and 2017 to bring it down to zero. I opened a pension in 2019. I am planning to get into using the stock exchange with an index fund to begin with. I might look into some other ways. I need to buy a car with a wheelchair space in.