Honey Chai Turmeric Vitality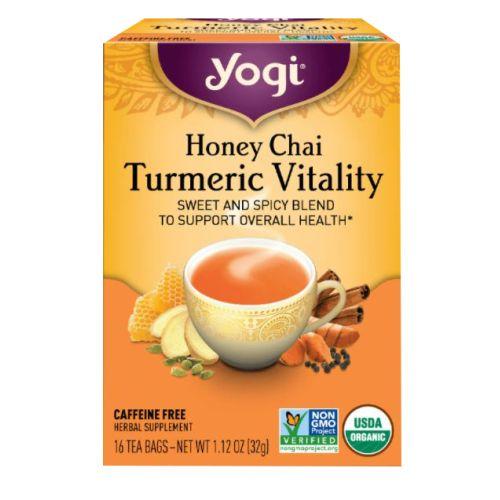 Jacksonville, Florida
January 13, 2021 3:18pm CST
Well... I am trying the second flavor of herbed tea that I purchased yesterday. This tea is just as tasty as the one I tried yesterday. I like to spray a couple of dollops of whip cream on top of my teas for an extra special treat. It's a more fun way to add cream to your tea, and a nice touch of sweetness. It includes several organic spice herbal blends of cinnamon bark, turmeric root, ginger root, cardamom pod, stevia leaf, honey flavor, clove bud, and black pepper. I am really glad I tried both of these. I will refill again once I am out.
8 responses

• Poland
13 Jan
I would love to try this tea myself. This is the first time I hear someone adding whipped cream to their tea. Wow

• Jacksonville, Florida
13 Jan
Yeah... If you go to Starbucks...they are adding whip cream to everything. So I decided to add it to me teas, and I love it. It is like of like adding milk, but a more fun way to do it. Plus... It adds a touch of sweetness to it too. Depending upon how hot your tea is...it melts within a couple of minutes. Then you are left with a sweet milk in your tea.

• Poland
13 Jan



• United States
13 Jan
I'm fond of herbal tea and this sounds really good

• Jacksonville, Florida
13 Jan
It is... I am drinking a cup right now. Once I found out the amazing benefits of turmeric, I try to have it in my diet one way or another, every single day. Sometimes it's the powder. It's great on eggs, and I even put it in my grits. I try to sprinkle some on just about everything, plus pepper. Since pepper increases the turmeric absorption by 2,000%!! Other times I take the capsules. Everyday I take a couple of liquid drops. The teas are the most delicious way to incorporate it into my daily lifestyle. Ever since I started taking turmeric, I no longer have any joint pain. I feel like I got 20 years of my youth back!

• United States
13 Jan
@teresatrotter
j started taking turmeric capsules over a year ago but they were giving me heartburn so I stopped. Hearing that your joint pain is gone makes me think I should give it another try. My knees hurt all the time and keep me from doing a lot of the things I used to e joy.

• Jacksonville, Florida
13 Jan
@Marilynda1225
Unless you get the organic ones, the capsules actually have ingredients in them that can harm you. If you start mixing the powder in your food, or get the liquid drops...I think you will see a big difference. The drops are more expensive, but it is worth it to me. You get 95% pure turmeric. Also... Make sure it has pepper in it, so it will absorb into your body 2,000% faster. Many capsules do not have the pepper in it. When I use it on my food, I actually make sure that I add black pepper too, for better absorption.


• Montrose, Scotland
13 Jan
I have never tried any herbal tea before.

• Jacksonville, Florida
13 Jan
Many of them are really good. Only a few I did not like as well. If they are not sweet enough for you, add a little sugar, honey, or even whip cream like I do.

• Montrose, Scotland
13 Jan

• Jacksonville, Florida
13 Jan