Keto "Carnivore" Day 3 - April 7th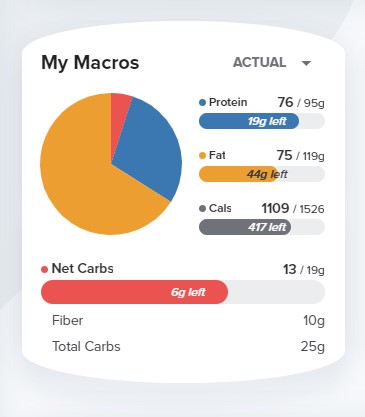 Rupert, Idaho
April 8, 2021 12:06am CST
Hello everyone, how are you all doing? I am back to share my Keto "carnivore" journey for the day. Let's start with the weigh in. Starting: 192 Last:190.8 Today: 187.2 That's a drop of 3.6 pounds! Yes, once again I know it is mostly water weight. But it is nice to see the number drop. Blood sugars? They are not good....but I am doing my best. Fasting: 277 Meal 1: 253 After workout: 315 Meal 2: 199 Meal 3: 160 I was relieved to see the 160 at the end of the day...but I usually go up 100 overnight. Food for today? Meal 1 - Keto Chow Shake (chocolate) made with heavy cream. Meal 2 - Can of tuna with mayo & no sugar added ketchup. 1 whole deviled egg 1/2 serving of pork rinds. Meal 3 - I planned to have 4 oz of ground beef, but only could eat about half. I topped the burgers I made with swiss cheese. Snack - peanut butter fat bomb. Macros for all of that? Calories - 1,109 Protein - 76 Fat - 75 Net Carbs - 13 Water - 52 oz Workout - 1 hour 30 minutes, burned around 830 calories. 11,970 steps at the end of the day! So I did alright food and exercise wise....but as I mentioned in another post I am struggling. Hopefully in a few days I will feel better and my sugars will go down. However, the sight of meat is making me nauseous. It could be because of the withdrawal from carbs/sugar. It is an addiction. Anyways, how do you think I did? Do you think the numbers will go down? How did you do with food/exercise....if you want to share of course. Image is mine, snapshot of my macros from the day from my carb manager app.
8 responses

• Green Bay, Wisconsin
8 Apr
You did well. I think those numbers will come down if you keep at it. I did well yesterday.

• Rupert, Idaho
8 Apr
I tried, but not sure how long I can stick to this....meat is not that appetizing lately. That is good that you did

• Green Bay, Wisconsin
8 Apr

• Rupert, Idaho
9 Apr
@just4him
That is good to hear. I had gone down 3 overnight the other day


• East Tawas, Michigan
8 Apr
Good job, Courtney. Just do your best and everything will be fine!

• Rupert, Idaho
8 Apr
Thank you, I do need to eat more calories.....at least 1,200. My best is not always good enough though

• East Tawas, Michigan
8 Apr
@MommyOfEli2013
And I don't believe your best isn't good enough!



• Rupert, Idaho
8 Apr
@kobesbuddy
Well I appreciate that, I just know I fail after a few days....or I try but don't lose weight..etc.




• United States
8 Apr
interesting - the sugars i would expect (body protection you are taking in less) the weight is a good water drop!

• Rupert, Idaho
8 Apr
Well to me the numbers should go down with taking in less carbs. I know the body needs time to switch to burning fat instead of sugar. But yes, was a nice drop. I went down today but not as much.

• United States
8 Apr
@MommyOfEli2013
They will but at first your body is going to convert fat into sugar because your body thinks it is starving!

• Rupert, Idaho
8 Apr
@DocAndersen
Doing this for years off and on I do know that....It can take a few weeks for the switch to happen. Even possibly a few months.


• United States
9 Apr
Good job! So it's interesting to see what happens to blood sugar after workout, etc. Are those pretty typical numbers? I have ditched the high fat foods on Keto for my own diet, and I am just focusing on low cal and lower carb. Keto fat foods were messing up my stomach real bad! Sounds like you are doing well with it though.

• Rupert, Idaho
9 Apr
Blood sugars can go up, that's a normal thing....but I was shocked to see it so high. I was already pretty high before working out though. Those are typical numbers when I am eating high carbs (aka cheating). When I eat low carb I can usually get them down into normal ranges. I couldn't imagine doing low calorie and lower carb....but if you are doing good on that then that is great. If I am being honest I am not doing well at all!

• United States
9 Apr
@MommyOfEli2013
I am very hungry LOL but not keeping low enough carb to be in ketosis, but staying below 1,200- but lower in carbs than I normally would. I'm only on like day 4 so we will see how it goes. . I've lost weight like this in the past but it takes a long time for your body to get used to the fewer calories so you're not feeling super hungry all the time. I was having trouble feeling nauseous and being constipated, which are two things I do not enjoy AT ALL. Just curious, do you find yourself hungry on keto? Or just craving carbs?

• Rupert, Idaho
9 Apr
@maezee
I can understand that....especially if you are below 1,200 calories. I was below 1,200 the past 3 or so days myself. Good to know about it taking time for you body to get used to lower calories. I understand that feeling, the first 3 days I was feeling nauseous too. Didn't deal with the other....but neither are fun. If I am eating enough calories, I don't feel hungry on Keto. But these past few days I wasn't hungry at all because of being nauseated lol.


• United States
8 Apr
Keep at it. I think your numbers will go down.

• Rupert, Idaho
8 Apr
They always were able to before....today I did wake up with my sugar under 200...only went up like 20 points instead of 100!

• United States
9 Apr

• Rupert, Idaho
10 Apr
@LindaOHio
Today was over 200 again. Today I cheated, and tomorrow will since I am going out of town. I don't want to have to diet anymore....


• United States
8 Apr
Hopefully you'll see your blood sugar number go down soon.

• Rupert, Idaho
8 Apr
Thank you, I sure hope so. Probably won't be today because not sure how low carb this coffee I am having is. I got it sugar free...but that doesn't mean carb free.

• United States
8 Apr

• Rupert, Idaho
8 Apr
@Tampa_girl7
I guess we will see! If it does I won't have that one again....I'll try their Keto Bulletproof coffee next time.

• Rupert, Idaho
9 Apr
Hopefully it will start to pay off soon. Thank you

• Marion, Ohio
8 Apr
Stop thinking about the carbs. Your numbers will start looking better.

• Rupert, Idaho
8 Apr
Not sure what you mean? I have to think about the carbs or my sugars won't go down.

• Marion, Ohio
9 Apr

• Rupert, Idaho
9 Apr
@wolfgirl569
I can't really help it....because I have a problem. I know what foods to avoid, but I can't always do that.