Short Story: John dreams of snakes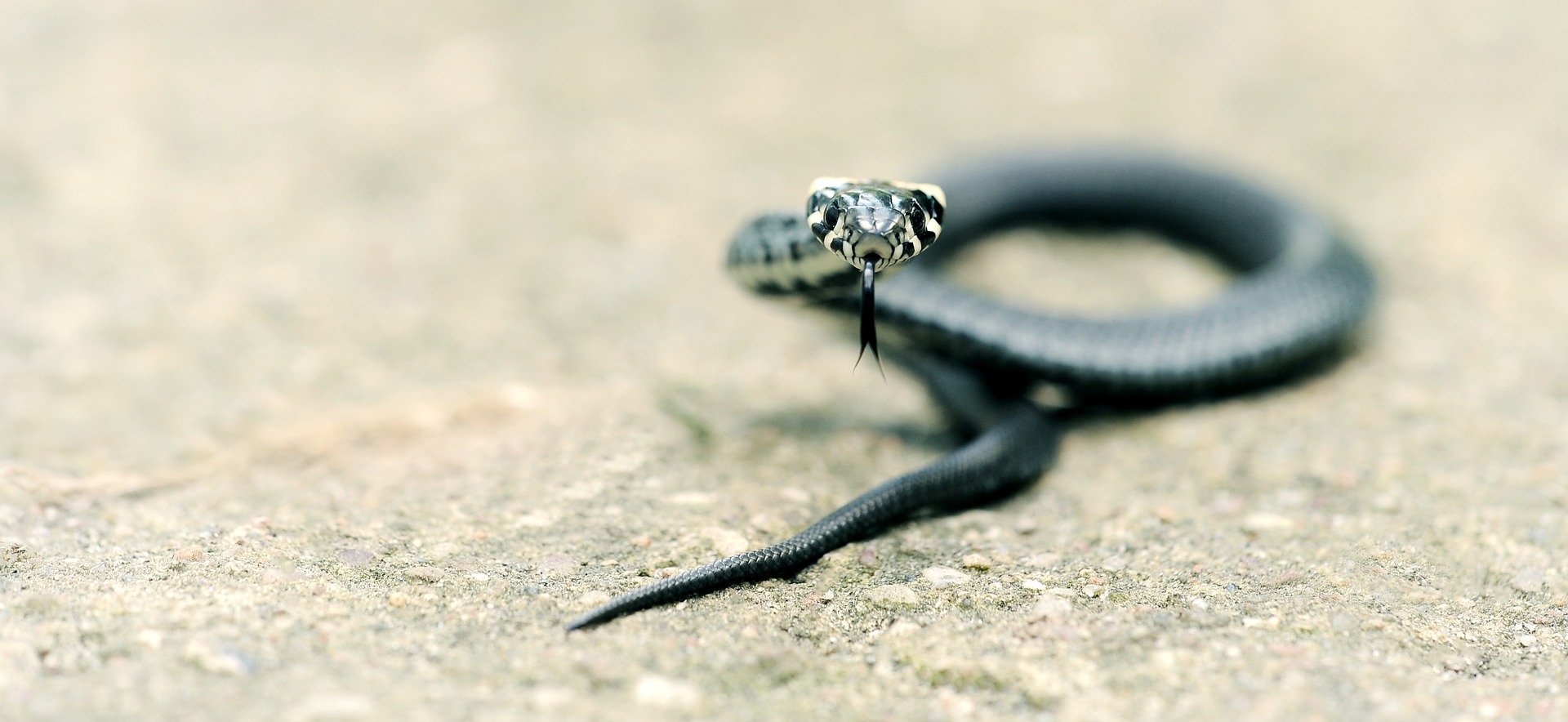 Australia
May 2, 2021 10:58pm CST
John Tuvenon was dreaming that he was on some small island, with some other man, and that this man had made a fire, and was cooking snakes, cut up into pieces on it, for them both to eat, as there seemed to be nothing much else on the island to eat. A couple of small sand snakes crawled off, as he had left them on the ground, next to him too, so they escaped, but he quickly found another, buried in the sand then too, and threw it in his pan. John had looked on in horror, though, as he had no inclination to eat any part of a snake. He woke up before he had eaten any. John consulted his dream book to try to interpret this simple enough dream. Dreams of snakes can mean that you are dealing with life problems, and eating them, might mean that you have largely now overcome these problems in your life. The problems do not cause you so much fear and trepidation, any more. Generally, dreams of snakes can be depicting for you the various traps in life that can bite you, unless you see the sustenance portion of them too. This is the observation that even snakes ( life problems) can provide you with some good insights, if they are cooked up in the right way by someone who knows, such as a life guide, or mentor of yours too. Some problems will escape even the watchful eye of your guide, so always try to solve your own problems too, and never totally rely on any advice from a guide, or mentoring person. The fact that the snake is cooked, and now dead, shows John that his own fear of death, has been largely overcome now too. The fact that he is on an isolated island also shows him that his fear of being alone is not troubling him either, as he knows that his inner guide can always feed him with wisdom, dished up in strange ways sometimes, though. The fact that John did not eat these snakes though, and was horrified of even the idea of eating them, also indicates that the has some ongoing issues with handling his own negative outlook on life. He knows that he should not eat, or take on board, any more repugnant attitudes, or give into too many overcontrolling emotions either. John knows that he should destroy these vipers of negativity in his life, but for now, he would just prefer to live with them, rather than analysing them, and digesting the inner meanings of what his ongoing negativism really means, or where it is coming from in his psyche. Photo Credit: The photo used in this article was sourced from the free media site, pixabay.com "Kill the snake of doubt in your soul, crush the worms of fear in your heart and mountains will move out of your way." Kate Seredy, (1899 to 1975)the Hungarian, writer said this. Perhaps, John still needs to do this too. Kill the snakes of doubt in yourself.
7 responses

• Lake Charles, Louisiana
3 May
I am working on killing the doubt demons myself.

• Australia
3 May
I am not sure if we can ever overcome them all; some doubt is beneficial I think too.

• Lake Charles, Louisiana
3 May
@innertalks
Fear is good as well as bad since it is good to fear touching a hot stove for example.

• Australia
3 May
@Deepizzaguy
The Bible seems to claim that righteous anger is ok too. Apparently, Jesus, got angry once, about with what was taking place in the temples. In the right time and place, every emotion must serve its real purpose then, otherwise, why would we still have it, if evolution was right.


• Bangalore, India
3 May
Nice interpretation of dreams there. They all sound interesting. Here in my country some people say that dream of water bodies and snakes is a symbol of prosperity coming in your life and it can be either materialistic prosperity or spiritual enlightenment.

• Australia
3 May
I have heard it said that snakes are wise in certain ways as well. I think in Chinese astrology, a snake represents prosperity too. Those born under/in the year of the snake, are said to be mysterious, quiet, deep thinking, and wise.

• Bangalore, India
3 May
@innertalks
All these sound interesting and fun. I have no Idea of snake year. What's that??

• Australia
3 May
@arunima25
That's a part of the Chinese Astrology, where every year, they have a different animal depicting that year.


• Green Bay, Wisconsin
3 May
A snake is never a good thing in anyone's life. It represents everything evil. My guide will always be the Holy Spirit who lets me know when that Snake is trying to cause trouble in my life.

• Australia
3 May
Yes, in most religions, the snake is not seen as being a good sign. The snake, like sin, tries to bite us, and to poison our hearts, and our minds with that sin. It is better to keep well away from such snakes, but to still watch for their appearance in dreams, as it could be some type of a message to us, that a snake might be close to biting us with its poison. We might have a drinking addiction, or be obsessed with gambling. Both of these things can act as poisons to our mind, body, and soul too.

• Green Bay, Wisconsin
4 May
@innertalks
I agree. We need to be aware of what will poison our minds and lives.

• Australia
4 May
@just4him
Yes, this is where reading scripture helps, which enlightens us about the types of sins that we should try to avoid. The Catholics name seven deadly sins, pride, greed, lust, envy, gluttony, wrath, and sloth.


• United States
3 May
i believe snakes get a bad rap. In fact, i dream of snakes often. Ones that catch the mice that plague human homes. Ones that eat the insects that devastate our food. A snake sadly has long been depicted as bad news. In the bible, the snake represents evil. In the lore of the First People of the US, the snake represents lying (speaking with a forked tongue).

• Australia
3 May
@Shiva49
There are some good ones too. "We should shed our old skins like a snake does." "The snake which cannot cast its skin has to die. As well the minds which are prevented from changing their opinions; they cease to be mind." Friedrich Nietzsche

• Australia
3 May
Some people have looked at some of their good characteristics too, though. "A snake knows more about what is happening around it than any other creature, because it has no ears to listen to gossip, only direct perception." Jaggi Vasudev, an Indian writer. "Just as a snake sheds its skin, we must shed our past over and over again." Gautama Buddha


• Nairobi, Kenya
3 May
Dream of snake can mean deception. He should pray against deception. The serpent deceived eve in the garden of Eden

• Australia
3 May
Yes, thanks. It could mean that someone is coming into his life that will try to feed him a lot of deceptive lies too.

• Nairobi, Kenya
3 May
@innertalks
yes, or it could represent a Nationwide or worldwide deception. The way they say the COVID vaccine is good but it's not true

• Australia
3 May
@mildredtabitha
Yes, it could be a more general dream depicting worldwide deception, but this dream took place on an isolated island, where John was marooned on it, with one other person, so, I think it more likely is more pointedly directed more towards just himself.


• Kampala, Uganda
3 May
I experience such dreams some times, but I have not looked them in the dream book


• Kampala, Uganda
3 May

• Singapore
3 May
I find it tough to analyze my dreams. In fact, I like to sort of gloss over some nightmares, want it not to leave its vestiges, better forgotten. Good moral, though, through this dream analysis to face our inner demons head-on with or without help. We need the purging of deadweight that cast a shadow from time to time. Dreams are prompting us to do so then.


• Singapore
3 May
@innertalks
That is a meaningful interpretation of your dream. Dreams do not repeat for me but some close associates, no more, appear at times and tell me something which I forget on waking up though some bits and pieces linger. I am happy that they are looking out for me, remember me.

• Australia
3 May
@Shiva49
Even if the dream does not repeat exactly, a dream theme might repeat. Close associates appearing in dreams, over and over, could be said to be such a theme Yes, I am sure it is reassuring for you to recontact them, and know that they are still in your circle, so to speak, not completely lost to you in some other circle now. I have a repeating dream where I am on a train, or a tram, but I have no ticket. This worries me in my dream, as it does in real life, where I think that I have still not found my real purpose, my mission, my reason for living this life, as yet. We do not need any tickets, before we start living our journey. It is what it is, and finding our real self, our purpose, our God-given gifts, are not really ever necessary for us to do. We are on the right train anyway, and being taken to where we need to go, with, or without, this ticket that we think that we might need first.

• Singapore
4 May
@innertalks
I do not think much about dreams and try to connect them with life here. As I said, most of them I forget when I wake up. Yes, we reach the destination here whether we have tickets or not. After a trip with others, we carry different memories of it - so that also happens in real life. Some just sleep through the entire journey while a few do not have enough of the sceneries!