Mr. Toad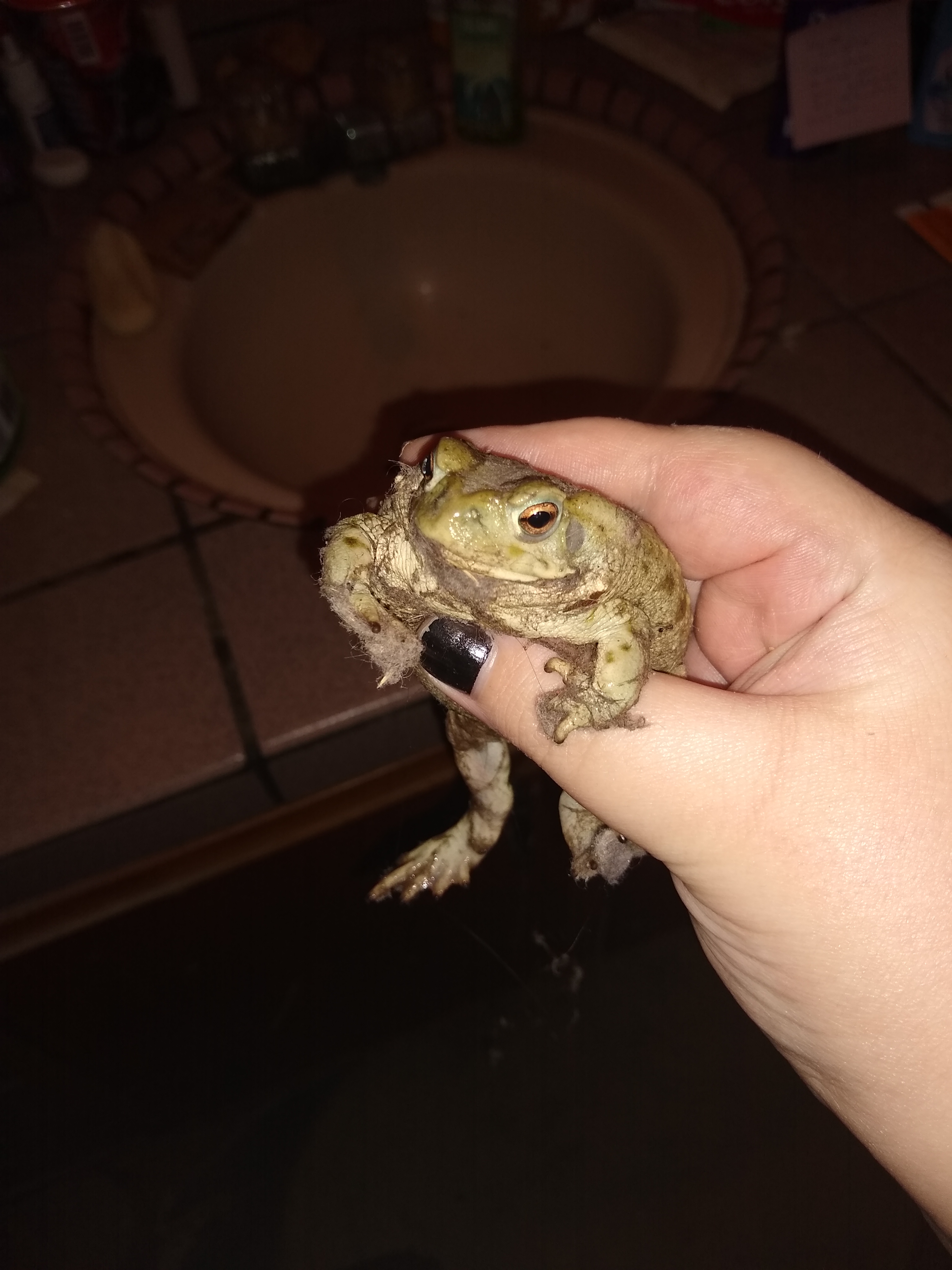 Peoria, Arizona
October 5, 2021 4:42pm CST
It was around 3am on Monday when I went to go to the bathroom. I saw a lump in the hallway. My first instinct was, "oh no... Mouse." And I grab my phone and turn on the flashlight. I still couldn't really tell what it was. I got a little closer and that lump was a toad. A Sonoran desert toad. They are common around here especially during monsoon season. And I'm just like...why the heck is there a TOAD in our house?! We've had bugs, a bird, a lizard here and there... All of those make sense. But how?! Toad?! Sir? Why are you here? I took a picture just in case I wasn't able to catch it, but have proof I saw a toad. So then I was just like, oh boy how do I get this out? Like, I had to catch it. I have never caught a toad before, so I was a bit nervous. I knew it wasn't going to hurt me, but I was apprehensive and I also needed to pee, so I really wasn't thinking. I walk slowly up to it and of course it leaped away. First it bonked itself into the trashcan, so that was funny I tried to catch it, but I wasn't fast enough It was hopping all over the kitchen. It was by the kitchen cabinets when I tried to catch it again. But it was at an awkward angle and it got away and WENT UNDER THE STOVE This whole time I'm whispering, "mr. Toad.... Mr. Toad, why, why under the stove Mr. Toad." I am sitting on the kitchen floor waiting for it to come out. I heard it moving and I didn't know what to do. So I got a bowl of water, I put it on the floor and I left to the bathroom. I peed. I come back out and I see the little leaper going behind some stuff and I'm like, "Mr. Toad come back" and I am moving stuff and it was again at an awkward angle, so I went to get a container to just trap it. However, Mr. Toad moved as I was looking away. I assumed it went under the fridge. I sighed ...what am I going to do?? So instead of a bowl of water, I put a plate on the ground with water to entice it. I left the kitchen for like 10 minutes. I go back out, and I hear a shuffle. Mr. Toad? Are you to the left or to the right? Shuffle shuffle. Mr. Toad?! It is by the computer desk in the living room. I didn't see it move, but I turned on my flashlight and I saw it running behind the desk. I move the chair and get down and I try to grab it. That was my first time actually touching it. It got away and then I was afraid of it going behind the couch. But my dude, Mr. Toad, my homie, he made his away around the computer instead and I was able to grab him. I took a picture of him because.... toads are cute, and let him outside. As I was washing my hands, I heard a thunk on the door and I'm just like...Mr. Toad...go home. So yeah.... Caught a toad in my house, as you do.
8 responses


• Peoria, Arizona
14 Oct
It is not albino haha I don't know if there are albino desert toads, I feel like that would be dangerous for them. If it had red eyes that would tell that it is albino.

• Indonesia
14 Oct
@DesirousDreamer
His skin is pale like the skin of an albino person


• Peoria, Arizona
18 Oct
@maratai
It isn't that pale though haha it is green, that is how all the toads of that species look here.


• Ireland
5 Oct
OMG! That's very adorable. I wish I could have a pet like that. I like the sound of it.

• Peoria, Arizona
6 Oct
They are very cute. I would not want this one as a pet, they are poisonous haha

• Ireland
6 Oct
@DesirousDreamer
Ah! If that's poisonous maybe that's the one we call in the Philippines as american frog, because we have a wild frog that can be eaten.

• Peoria, Arizona
7 Oct
@asianlady
This is one that is found in the desert, so it likes dry climates.



• Peoria, Arizona
7 Oct
Indeed it was a struggle! But it was great to finally catch him and actually catch my first toad. I have held frogs and toads before, but never caught one, so it was pretty exciting.

• Switzerland
7 Oct
@DesirousDreamer
I caught one in the laundry room last year, but I was wearing gloves to avoid to touch him.


• Peoria, Arizona
6 Oct
Oh yes, Mr. Toad gave me a work out haha

• Lake Charles, Louisiana
5 Oct
I like the post of the toad in your home.

• Lake Charles, Louisiana
6 Oct

• Daytona Beach, Florida
6 Oct
I used to have to fish frogs and lizards out of the swimming pool twice a day as a kid. I'm glad to hear you rescued the toad.

• Peoria, Arizona
6 Oct
Yeah, I have a friend who had a similar situation. When we had a pool I would help out some bees that would fall in.

• East Tawas, Michigan
5 Oct
I love toads, we have baby toads living in our back yard. Also, they move under our back porch to hibernate. I wonder how that toad got inside your house!

• Peoria, Arizona
6 Oct
That's so cute! I have no idea how, perhaps when a door was open,but I don't recall any door being open for that long.